The Killers Scrapped A Whole Album After Hearing Vampire Weekend's 'FOTB'
By Katrina Nattress
May 5, 2020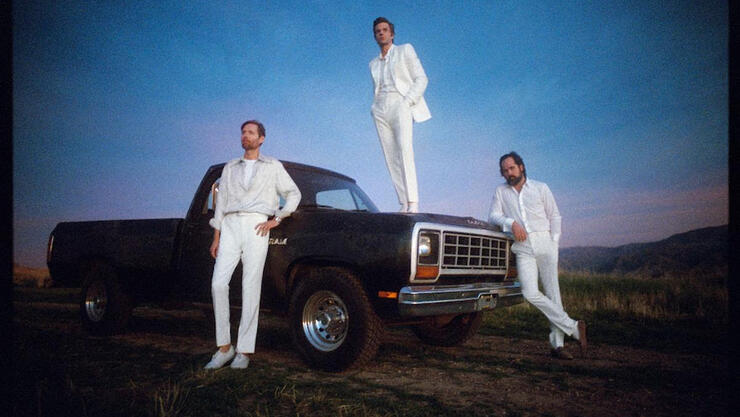 The Killers are gearing up to release their sixth studio album, Imploding the Mirage, but the road to new music was not an easy one. This was the first time the band went into the studio without guitarist Dave Keuning — who is focusing on a solo career — and writing without the founding member proved challenging.
"We were trying to make it sound like the band wasn't fractured," singer Brandon Flowers explained to Rolling Stone. "And trying to sound like the Killers. It was almost like we were doing this dumbed-down, mannequin version of the band."
After six months of recording, The Killers weren't happy with anything they had made — and then producer Ariel Rechtshaid played Flowers some of the new Vampire Weekend album,Father of the Bride, and that's when he decided they had to start over.
"I realized I couldn't continue on the path that I was on," he recalled. "It reminded me of the way I felt when I heard Is This It [by The Strokes]. I was like, 'Oh my gosh, I can't just phone this in. If Ezra [Koenig] is doing this, I need to up my game a little bit.' I was inspired and jealous. For me those, two emotions combined really light a fire under me."
The band decided to throw out nearly everything it had recorded and re-focus. They got together with producer Shawn Everett and Jonathan Rado of Foxygen, and recruited the likes of Lindsey Buckingham, kd lang, Weyes Blood, Adam Granduciel (War On Drugs), Blake Mills and Lucius as collaborators.
"A lot of moments reminded me of making our first album, where you just know that it's going to connect because of the way it makes you feel," Flowers said fondly. "I felt like that 20-year-old kid almost inventing something again."
The Killers have released a handful of songs off Imploding the Mirage, including lead single "Caution" and a band favorite, "Fire In Bone." They unfortunately had to delay the release of the album due to the coronavirus outbreak, and expect to announce a new date soon.
Photo: Olivia Bee
Chat About The Killers Scrapped A Whole Album After Hearing Vampire Weekend's 'FOTB'