Cara Delevingne & Ashley Benson Split After Almost 2 Years Together
By Paris Close
May 7, 2020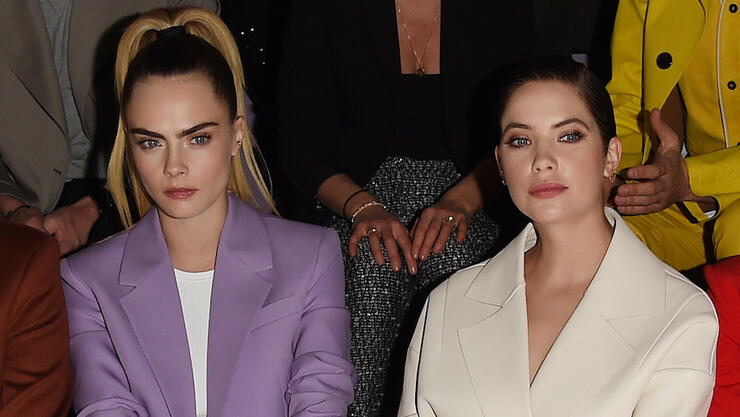 Cara Delevingne and Ashley Benson have broken up.
After almost two years together, the couple have decided to call it quits, E! News learned on Wednesday (May 6). Per the site, Delevingne has been enjoying her life of singlehood and is spending her time quarantining with friends.
The actresses, who were at one time pretty quiet about their intimate life, were first rumored to have been seeing each other romantically in August 2018 when Benson shared a steamy Instagram post from home with Delevingne hidden behind her.
After a year of speculation, the Paper Towns star and her sweetheart confirmed their relationship during Pride last year after the pair was caught kissing on video during the celebration.
Days later, the runway star revealed what inspired the PDA while speaking at the TrevorLIVE New York Gala at Cipriani Wall Street in New York City. When asked why she decided to go public at the time, Delevingne casually replied, "I don't know because it is Pride, it's been 50 years since Stonewall happened and I don't know. It's been just about our one year anniversary so, why not?"
The 27-year-old also shouted the Pretty Little Liars star out while accepting her Hero Award at the ceremony. "I also have another very special woman in this room to thank and you know who you are," Delevingne said at the time. "She's one of the people who help me love myself when I needed it most and I really needed it. She showed me what real love is and how to accept it, which is a lot harder than I thought."
According to sources, the duo had been happily living together in Los Angeles. "Ashley has never been in a relationship like this and is happier than she has ever been," an insider told E! News.
In light of the breakup news, Benson and Delevingne have seemingly scrubbed their social media of pictures of each other as well.
Photo: Getty Images
Chat About Cara Delevingne & Ashley Benson Split After Almost 2 Years Together