Drake's Son Says 'Dada' In Sweet Mother's Day Video With Mom Sophie
By Peyton Blakemore
May 11, 2020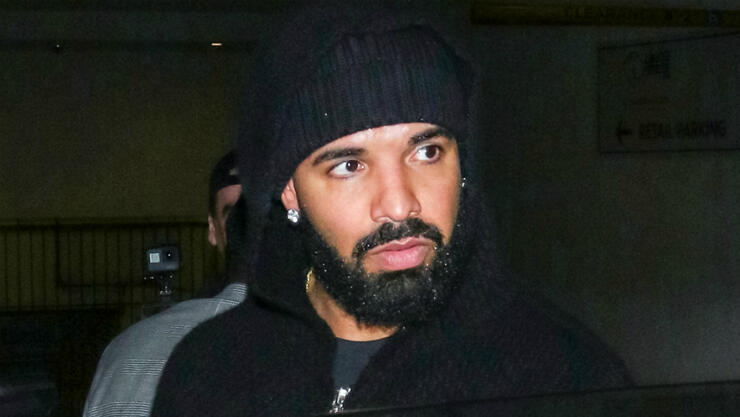 Drake and Sophie Brussaux have a little artist on their hands.
On Sunday (May 10), Sophie, the mother of the Canadian rapper's first child Adonis, shared a sweet video of their 2-year-old son to Instagram in honor of Mother's Day.
In the video, Adonis is heard saying "Dada" as Sophie shows off the toddler's "artwork": jeans that he drew on with colorful markers.
"New jeans by Adonis," Sophie wrote on her Instagram Story along with a photo of a colorful drawing the little one also created.
Sophie's post came nearly a week after Drake opened up about fatherhood and why he chose to post the first pictures of their son to Instagram back in March.
"I posted those pictures. It was great for me," he told his friend and mentor Lil Wayne." It was great to just share that with the world and I just felt like ... It wasn't even anything I talked to anybody about or anything I planned. I just woke up one morning and I was like, you know what? This is just something that I want to do." 
The 33-year-old rapper added, "I want to be able to go places with my son and share memories with my son. I don't want to feel like just because of a life choice I made to be a 'celebrity' that I got to make everybody live under this blanket... I just wanted to free myself of that."
Drake went on to explain that he also drew inspiration from Wayne, who has four children, saying that his example of fatherhood — balancing being an active father and a successful artist — encouraged him.
"That gave me a lot of confidence too," the "Tootsie Slide" rapper admitted. "A lot of us, like [2] Chainz, is a great father and a lot of the guys that we came up around just being great family men on those tours and on those long studio nights when albums need to get done... But specifically you, just how you always just made sh*t function and work and how much love the people in your life have for you. And I could just tell the way your kids would stare at you that the time and effort that you put in as a father. So, that was really inspiring for me just to know that I can still keep pushing forward as a musician and be there for my son."
Photo: Getty Images
Chat About Drake's Son Says 'Dada' In Sweet Mother's Day Video With Mom Sophie