Taylor Swift Honors Mom Andrea With The Sweetest Mother's Day Tribute
By Paris Close
May 11, 2020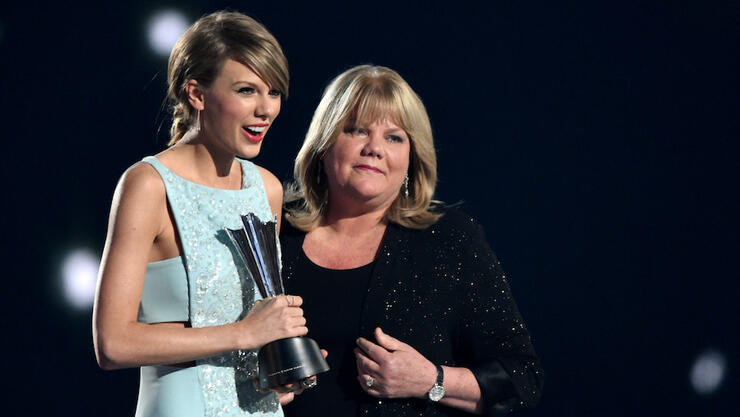 Taylor Swift is making us emotional with her Mother's Day tribute.
On Sunday (May 10), the singer-songwriter honored the sweet holiday with a heartfelt memory on social media to praise her mom, Andrea. Taking to Instagram with an adorable home video footage of a baby Taylor reciting her 123s, the "Delicate" musician posted a thoughtful message to express her love for the most influential woman in her life.
"My conversations with my mom have always been and will always be some of my favorite memories - from when I was 10 months old in this video from October 1990 to now talking every day on the phone," Taylor captioned the throwback clip. "Our talks are everything to me. Myyyyyyyy goodness I love you Mom. Happy Mother's Day. 💐 PS for those of you who are separated from your loved ones or struggling with this day, my heart is with you 💗"
Taylor and Andrea share an extremely close bond, and the pop star has always been vocal about her love for her mom.
As fans know, Andrea's health condition has been the biggest concern for the "Delicate" musician, who revealed in 2019 that her mother's cancer had returned. "Both of my parents have had cancer, and my mom is now fighting her battle with it again," she told Elle at the time. In August 2019, Taylor released her seventh album, Lover, which includes the song "Soon You'll Get Better," an emotional tune written for Andrea that features Dixie Chicks.
As time went by, more unfortunate news befell Swift and her family. In January, it was revealed that Andrea had been diagnosed with a brain tumor. "While she was going through treatment, they found a brain tumor," Taylor shared in her Netflix documentary Miss Americana. "And the symptoms of what a person goes through when they have a brain tumor is nothing like what we've ever been through with her cancer before. So it's just been a really hard time for us as a family."
Photo: Getty Images
Chat About Taylor Swift Honors Mom Andrea With The Sweetest Mother's Day Tribute