Tim McGraw Highlights Importance of Human Connection in Commencement Speech
By Taylor Fields
May 15, 2020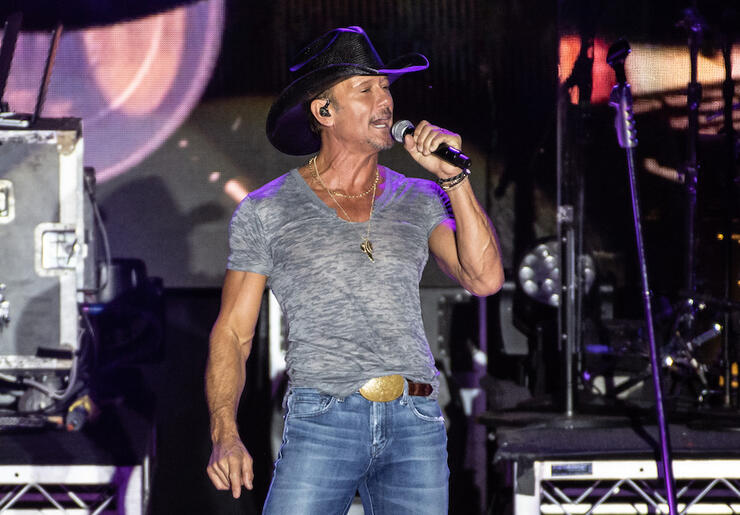 Due to the coronavirus pandemic, graduating seniors across the country will not get the chance to have a commencement ceremony — including both of Tim McGraw and Faith Hill's daughters. But, McGraw has some important advice for these students, and he's sharing it via iHeartRadio's "Commencement: Speeches for the Class of 2020" podcast.
In the country star's commencement speech, he explained, "I can personally relate to the situation you're in, as we have two daughters graduating this year; one from high school, one from college. Our family joined you in the disappointment of not being able to share this moment in person as a collective event. We are all witnesses to your accomplishment, to this important marker of time in your life. Even though it looks different than we all imagine. Life is often different than we imagined."
McGraw then continued on towards the focus of his speech: the importance of human connection.
To illustrate how vital the human connection is, McGraw explained how fundamental it's been in his own career. He said, "As a musician and entertainer. It's always been at the heart of everything I do, everything I love. Throughout my career, it's always been my goal to reach out and connect with others through music. Everything I do at home in the studio or on that stage; lights, sound, music, everything, it's all done with the goal of connection. I want to connect with the people in those seats, to bring us a moment we can all share together."
He added, "Graduates, you are a generation that understands community. I see in my daughters, and I see in you a passion to understand and help others, an awareness of the bigger picture of humanity, and a willingness to show up for each other. A wholly elevated level of care and attention to the world, and the footprint we make with them. We will get back to a new normal, and as we do, I challenge you graduates to become leaders who guide us with the beacon of human connection."
Tim McGraw attended college at Northeast Louisiana University on a baseball scholarship, however he suffered a knee injury, but college is when he learned to play guitar. The country star eventually moved to Jacksonville, Florida to be close to his mother, and then attended Florida Community College at Jacksonville for one term.
Congratulations to the Class of 2020! iHeartRadio's "Commencement: Speeches for the Class of 2020" podcast celebrates this year's graduating students as they take their next steps into the world. For more inspiring speeches from celebrities, athletes, business leaders and more, listen to the podcast on iHeartRadio.
Chat About Tim McGraw Highlights Importance of Human Connection in Commencement Speech