Jonas Brothers Are Going On An Interactive 'Digital Tour' With Fans
By Lindsey Smith
May 20, 2020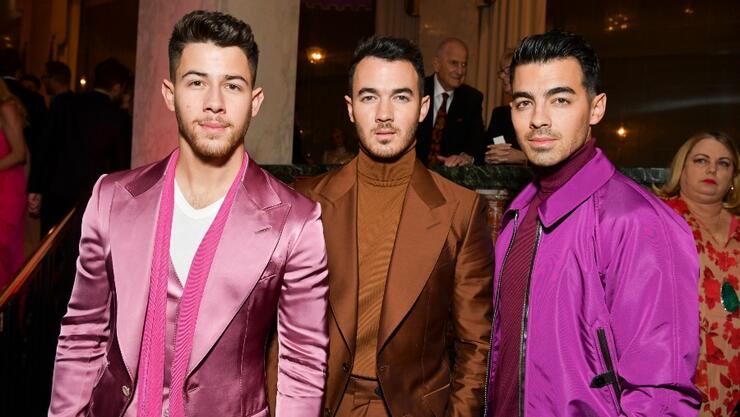 The Jonas Brothers are making the most of quarantine and while they can't head out on a real tour, Kevin, Joe, and Nick have announced a digital tour.
On Wednesday (May 20), the Jonas Brothers surprised fans by announcing X Marks The Unlock — an interactive website to keep you entertained for days to come. Bonus: play around with it while watching their 'Happiness Continues' concert film.
"We're going on a (digital) tour! Starting today you can unlock exclusive games, videos, and more thru Sunday by visiting XMarksTheUnlock.com! *Stay inside and unlock content from the safety of your home," the guys wrote on Instagram.
Once you get onto the site from your phone and turn your location on, you'll see a red X (or multiple ones). At the bottom it'll say "You've unlocked something" with an "UNLOCK" button. 
For the first piece of content, fans can play the Jonas Brothers' official 'Escape The X' game. The game is a Pac-Man style throwback arcade game. You can play as Joe, Kevin, Nick or Karol G and try to outrun the ex!
They'll be announcing more features soon and you can go on a virtual road trip with the Jonas Brothers as they digitally travel all around the world. Check out the schedule below:
Wednesday May 20: USA, Canada, Central America, Mexico, Caribbean Islands
Thursday May 21: Europe Leg 1, Asia
Friday May 22: Australia, New Zealand, Africa, India
Saturday May 23: South America, Denmark, Finland, Iceland, Norway
Sunday May 24: UK, Ireland, Hometowns; New Jersey, Colombia
The Jonas Brothers and Karol G released their collaboration, "X," last week and just dropped the official music video. 
The song is expected to appear on the Jonas Brothers' new album. During a recent interview with Ryan Seacrest, the group said they already have plenty of songs lined up for the project, rumored to release before year's end!
Photo: Getty Images