Clearview AI: The Good, Bad, & Ugly of Facial Recognition Technology
By Diana Brown
May 26, 2020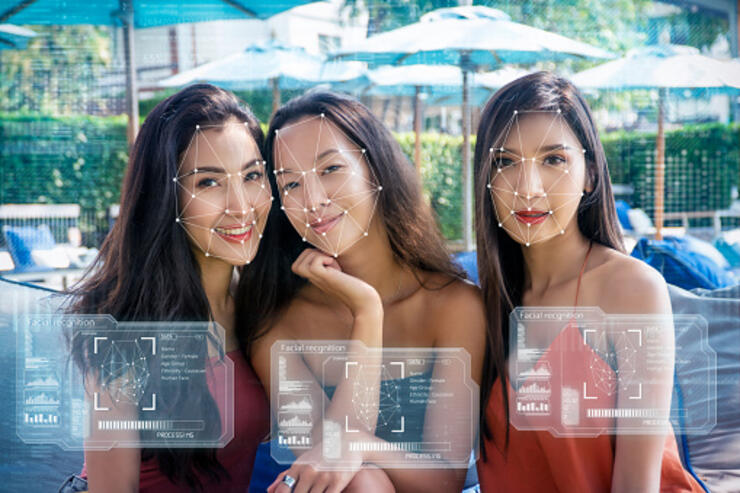 On this episode of Stuff They Don't Want You To Know, hosts Ben Bowlin, Noel Brown, and Matt Frederick talk about the pros and cons of facial recognition technology, particularly the company Clearview AI. Clearview created an app to enable law enforcement agencies to search an enormous database of photos to identify perpetrators and victims of crime. They have upwards of 3 billion images in their database, and as Ben says, "that number will be higher by the time you get to the end of this episode." These images are taken from all available sources, including social media, Venmo, YouTube, LinkedIn, and more. But with so many concerns over privacy, racial bias, and the potentially sinister applications, a firm line in the sand is being drawn over whether or not this kind of technology should be used at all.
The pros to the tech are fairly straightforward: Law enforcement has already used the database to capture shoplifters, child abusers, sex traffickers, and even solve a few homicides. It's innovative tech, a "huge leap forward" in facial recognition; even if you're only in the background of another person's selfie, this app can match your face with startling accuracy. Once it's done that, only a little more work is needed to find out where you live, where you work, who your friends, family, and acquaintances are, and so much more. "Can you hear the Feds drooling in the background?" Ben asks. When you're looking for a dangerous criminal, all that information could be crucial to tracking them down; seems like a no-brainer to use it.  
But of course tech can be abused, just like any tool. Law enforcement officials could use the app for personal reasons. There's also a known racial bias in facial recognition technology, which could lead to false arrests and wrongful convictions. Some applications of this tech could even affect your insurance coverage. Most concerning of all, in February of this year Clearview was hacked, and their customer list published. Though they publicly said only police departments had access to this app, the list told a different story, showing clients in multiple government agencies and private corporations, and even users in Saudi Arabia and the United Arab Emirates, who could easily use the tech to round up dissidents and activists instead of criminals. Could the consequences of facial recognition outweigh the benefits? Listen to this episode to find out more about the good, the bad, and the here's-where-it-gets-crazy about Clearview AI on Stuff They Don't Want You To Know. 
If you want to be sure you're listening to the podcasts everyone else is checking out, iHeartRadio has you covered. Every Monday, iHeartRadio releases a chart showing the most popular podcasts of the week. Stay up to date on what's trending by checking out the chart here. There's even a chart just for radio podcasts here, featuring all your favorite iHeartRadio personalities like Bobby Bones, Elvis Duran, Steve Harvey and dozens of others.
Photo: Getty Images