Casino Owner Offering Free Flights To Las Vegas To Bring Tourists Back
By Bill Galluccio
May 27, 2020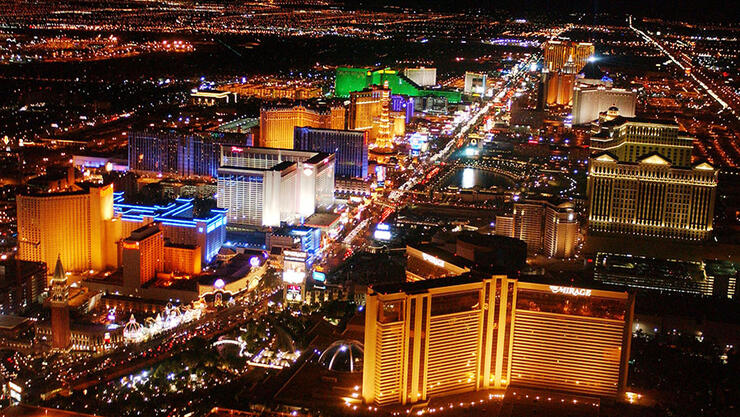 The economic impact of the global coronavirus pandemic was devastating for many residents in Nevada. The state saw its unemployment rate skyrocket to 28.2%, the highest in the nation, and many residents struggled to navigate the bureaucracy and claim their benefits. Las Vegas was hit especially hard, with thousands of service workers laid off or furloughed as the casinos and restaurants closed, and tourists went back home.
As the state continues to slowly reopen, officials said that casinos can open their doors starting on June 4. They will have to follow strict social distancing guidelines, which include roping off slot machines to ensure people stay at least six feet apart, and capping the number of people who can play table games like blackjack and craps.
While the casino operators are glad to be open, they are going to struggle without tourists. The casinos that line Las Vegas Boulevard have announced they will not charge locals to park in their garages, as they hope to attract residents who have shunned the high prices and large crowds that populate the Strip.
To help bring tourists back, Derek Stevens, the owner of The D, the Golden Gate, and Circa Las Vegas, which is still under construction, is offering 1,000 free one-way tickets for tourists to come to visit Las Vegas.
Allegiant, Frontier Airlines, Southwest Airlines, Spirit Airlines, and Sun Country Airlines are participating in the promotion, which has been named "Keep America Flying."
Travelers are responsible for booking their return flight and the cost of hotel accommodations and any expenses they incur on their vacation.
Stevens says that while he hopes people will stay at the properties he owns, he will be glad to see people returning to the city.
"As we begin to reopen our doors across the city, we are proud to help reinvigorate travel to Las Vegas while supporting airlines in America impacted by the COVID-19 crisis," said Stevens. "We can't wait to safely bring visitors to the city and remind them why we've earned the title of 'Entertainment Capital of the World.' And while we'd love for visitors to stop by Downtown Las Vegas, we primarily want to get people back to Las Vegas to experience the attractions and amenities that make it one of the greatest places on Earth."
You can find out more information about the free tickets here. 
Photo: Getty Images
Chat About Casino Owner Offering Free Flights To Las Vegas To Bring Tourists Back