Lady Gaga & Ariana Grande Predict Lots Of Rain In New Weather Channel Spoof
By Hayden Brooks
May 27, 2020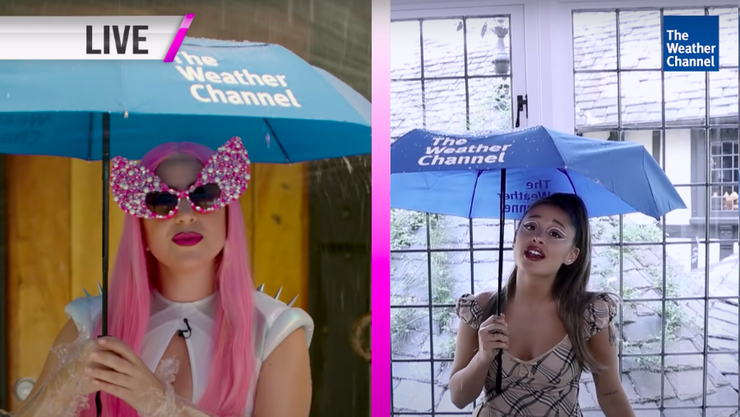 Lady Gaga and Ariana Grande are pushing their new single, "Rain On Me," separately from their own homes amid the quarantine.
On Tuesday (May 26), the pop titans unveiled a comedic one-minute clip of them predicting 100 percent chance of rain as the Chromatic weather girls from their own homes. Doubling as a partnership with the Weather Channel, the video sees the two stars appear under umbrellas and pouring rain to deliver the cheeky update. "It was beautiful just yesterday but, oh wow, how things have changed," Gaga says in a white bodysuit and flashy sunglasses to match. "Today, it is pouring rain. We are soaking wet. And while some are complaining of the recent downpour, we would like to celebrate the rain."
Afterwards, Grande appears in the video to recite one of the track's lines and play up the weather forecaster role. "Rain on me, tsunami! Water like misery but the people are still going," she adds. "So true, Ariana," Gaga responds. "The world is rising up in a massive act of kindness to celebrate the rain the world so desperately needs to quench the thirst of the Earth. Are we thirsty or what?"
Soon enough, the clip lets viewers in on the production as the close-ups of the stars become wide shots and they are seen under hoses of water. For Grande, its boyfriend, Dalton Gomez, who is seen holding the hose to help her film the promo. "Rain On Me" is featured on Mother Monster's new album, Chromatica, which drops on Friday. Expect additional collaborations from Elton John and BLACKPINK.