Jason Aldean's Wife Brittany Shares 'Ways To Annoy Your Man' In New Video
By Blake Taylor
May 30, 2020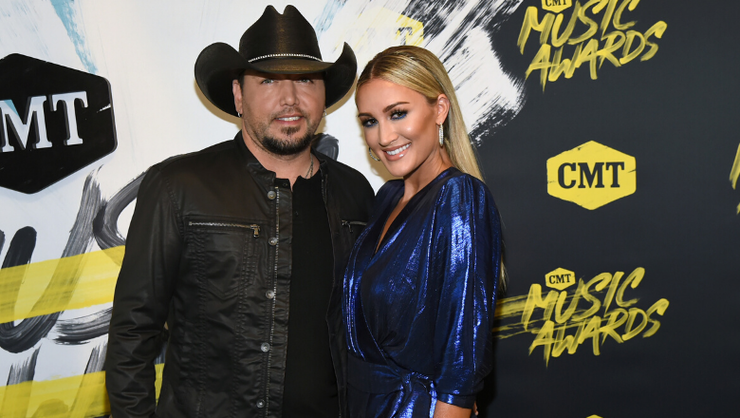 Throughout quarantine, Brittany Aldean has given fans a glimpse into her life at home with her country superstar husband, Jason Aldean, through several posts social media. In one of her most recent posts, Brittany shares with fans several "ways to annoy your man" in a hilarious TikTok video.
The clip shows Brittany doing a series of things to annoy Jason including poking him in the rear end and squeezing his cheeks. The video ends with her shoving a banana into his face. Based on the look on Jason's face, it's clear her plan to "annoy" him worked.
Watch the hilarious new clip below.
Jason and Brittany, who got married in 2015, share 2-year-old son, Memphis and 15-month-old daughter Navy together. The country singer also shares two daughters with his ex-wife, 17-year-old Keeley and 12-year-old Kendyl.
In a recent interview, Brittany revealed that although she'd love to have more kids, Jason isn't exactly on the same page.
"I would love to [have more kids]," she said. "I've been asking him, 'What would our third baby name be?' He's like, 'Well, we don't have to worry about it because it's not happening,' but I would love another."
"He has four, so I understand, but I would definitely do another one," she says. "We probably will not be contributing to the new [coronavirus] baby boom."
She continued on to explain that although she does miss parts of pregnancy, she's enjoying where she's at in life now with her sweet kids.
"They interact, they play, so it's a really special time," she shared. "It's the one positive thing that's actually come out of the quarantine, being able to be there for all these little baby steps, and also Jason being here. Usually right now, he would be on tour, so it is a little bit of a blessing. That's the silver lining in it all."
Chat About Jason Aldean's Wife Brittany Shares 'Ways To Annoy Your Man' In New Video