Brandi Carlile Raises Over $100K For Racial Injustice During Birthday Show
By Blake Taylor
June 3, 2020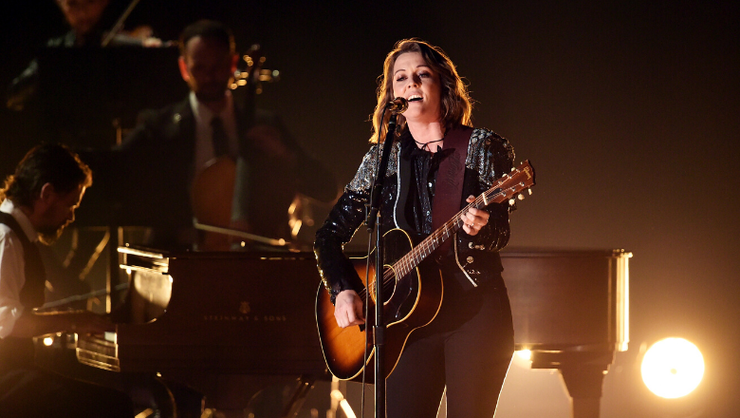 Brandi Carlile celebrated her birthday on Monday (June 1) with a virtual concert and fundraiser for two equality advocacy groups. Carlile, who performed alongside longtime collaborators Phil and Tim Hanseroth ended up raising over $100,000.
Ticket proceeds for the show benefited her crew and band, who've been unable to work due to the COVID-19 pandemic, but The Tennessean reports additional fundraising added up to over $100,000. The money raised was given to Campaign Zero and Black Visions Collective.
Ahead of her show, Carlile shared a video on Twitter in which she discussed racial inequality in America and expanded on the two organizations that have been close to her heart.
To start, she says she is in "complete support of" the message laid out by Black Lives Matter organizers and that she will be observing the music industry shutdown on Tuesday (June 2).
She continues on to share the mission of Campaign Zero and Black Visions Collective.
Campaign Zero is an online platform that uses research-based policy solutions to end police brutality in America. Black Visions Collective is a black, trans and queer led organization that is committed to dismantling systems of oppression and violence in America.
"I also want to say that I'm not here to hijack or appropriate this message and if anybody else can help with it they shouldn't be either," Carlile says as she concludes. "As a white person, now would be the time to stand behind, support and amplify the voices of the people who are being so affected so negatively and violently by racism in this country. Mine is certainly not the voice we need right now, discussing this."
Carlile's fundraising efforts come after the death of George Floyd, a 46-year-old black man who was killed when a Minneapolis police officer pressed a knee into his neck for more than eight minutes.
Chat About Brandi Carlile Raises Over $100K For Racial Injustice During Birthday Show