BTS Issues Statement Supporting Black Lives Matter: 'We Condemn Violence'
By Paris Close
June 4, 2020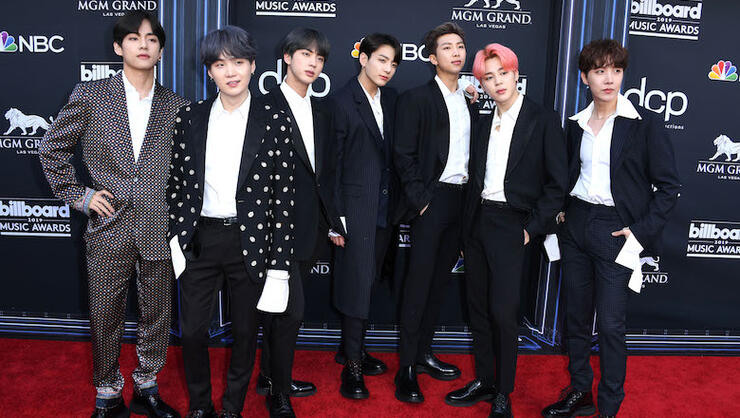 BTS is standing with Black Lives Matter.
The members of the K-pop group — Jin, Suga, J-Hope, RM, Jimin, V, and Jungkook — are the latest to stand in solidarity with the black community amid the civil unrest across the globe demanding an end be put to police brutality and racial injustice following the fatal arrest of George Floyd.
Taking to Twitter with a statement on the matter Thursday morning (June 4), the band proclaimed, "We stand against racial discrimination. We condemn violence. You, I and we all have the right to be respected. We will stand together. #BlackLivesMatter."
The tweet, shared late last night, has already garnered over 1 million likes and tons of praise from the boy band's fanbase.
One fan tweeted: "'Trust in BTS, they Know what they Are doing' that's what most of the ARMY have been saying ... I always knew that they will talk about the BLM and I know they are supporting it and their hearts are with the Black ARMY ... together we will face racism ...💜💜💜💜 we love you BTS"
Additionally, according to Korea Herald, BTS has also pledged to "contribute to an anti-racism activist group" but neither the name of the organization nor the amount donated has been disclosed.
BTS joins other K-pop artists who have spoken out in solidarity with the black community, including Amber Liu, CL, and Jay Park.
"Cant even begin fathom how fed up the black community is with so many years of abuse," Park wrote on Instagram. "I Pray to God the truth prevails and i Pray to God ppl who have compassion and empathy are put into a place of power and authority and ppl who abuse their power for their own greed and ego and to feel superior all disappear."
See how Ariana Grande, Madonna, Diddy, and more reacted to Floyd's murder here.
Photo: Getty Images
Chat About BTS Issues Statement Supporting Black Lives Matter: 'We Condemn Violence'