Meghan Markle Says 'George Floyd's Life Mattered' In New Video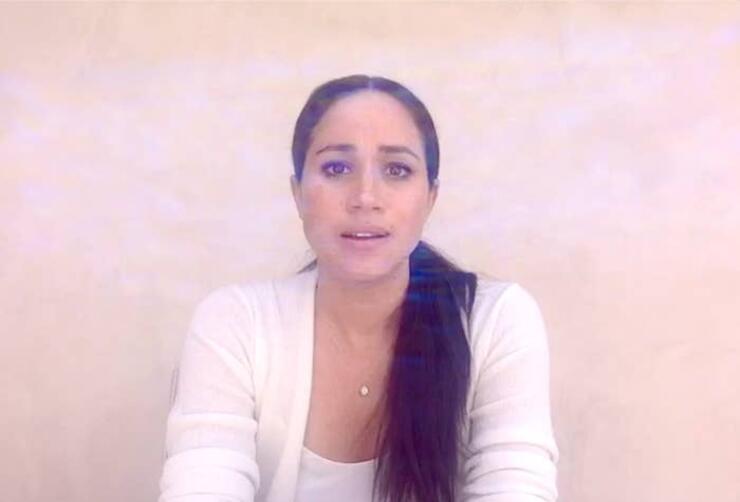 In a virtual commencement speech for her alma mater, Immaculate Heart High School in Los Angeles, Meghan Markle addressed George Floyd's death at the hands of the Minneapolis police, as well as the worldwide protests that followed.
Royal Reporter Omid Scobie shared the video on his Twitter account, along with a statement from a spokesperson for Meghan and Prince Harry. The spokesperson said Meghan "felt compelled to directly address what's happening in this country right now around the killing of George Floyd––as well as what's been happening over many, many years and many, many generations to countless other black Americans."
"This is something incredibly personal to Meghan, especially given everything she has experienced. And as a couple it is, of course, very important. They are both feeling it, just like the rest of us," the spokesperson added.
Meghan began her powerful speech by candidly telling the Immaculate Heart High School Class of 2020 that she had been struggling to find the right words to share with them. "I wanted to say the right thing. And I was really nervous that I wouldn't, or that it would get picked apart, and I realized—the only wrong thing to say is to say nothing," she explained.
"Because George Floyd's life mattered, and Breonna Taylor's life mattered, and Philando Castile's life mattered, and Tamir Rice's life mattered, and so did so many other people whose names we know and whose names we don't know. Stephon Clark. His life mattered," Meghan continued.
"The first thing I want to say to you is that I'm sorry. I'm so sorry you have to grow up in a world where this is still present," Meghan said. She then recalled her own first hand experience with the Rodney King riots when she herself was a student at the school. "I can't imagine that...you would have to have a different version of that same type of experience. That's something you should have an understanding of—but an understanding of as a history lesson, not as your reality."
Despite graduating in the midst of a global pandemic and historic nationwide protests against police brutality, Meghan told the graduates she knows her fellow alumnae are going "to lead with love, you are going to lead with compassion, you are going to use your voice."
"You are going to use your voice in a stronger way than you have ever been able to, because most of you are 18, or you're going to turn 18, so you're going to vote. You are going to have empathy for those who don't see the world through the same lens that you do — because with as diverse, vibrant and opened-minded as I know the teachings at Immaculate Heart are, I know you know that black lives matter. You are equipped, you are ready, we need you, and you're prepared," she concluded.
Photo: Omid Scobie
Chat About Meghan Markle Says 'George Floyd's Life Mattered' In New Video