T.I., Kevin Hart, Tiffany Haddish & More Attend George Floyd Memorial
By Peyton Blakemore
June 4, 2020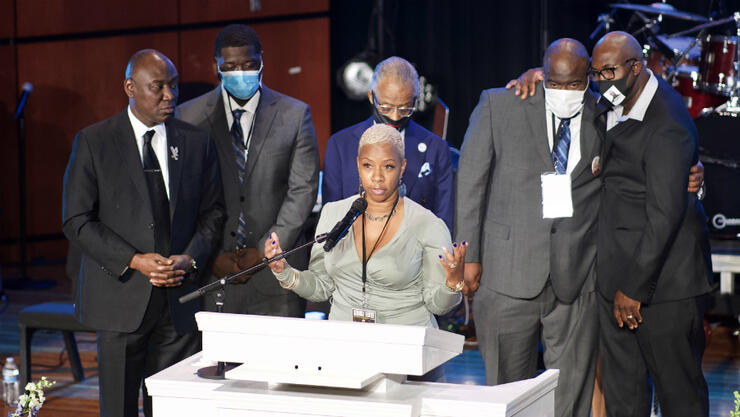 The first of George Floyd's three public memorial services was held at North Central University in Minneapolis on Thursday (June 4).
The service came 10 days after the 46-year-old was murdered by Derek Chauvin, a white police officer, who kneeled on his neck for more than eight minutes.
Hundreds gathered in downtown Minneapolis, just miles from the scene of George's tragic death, to show support for his family. Included in the hundreds of supporters were celebrities Kevin Hart, Tiffany Haddish, T.I., Tyrese Gibson, and Ludacris. Minnesota politicians were also in attendance, including Gov. Tim Walz, Sen. Amy Klobuchar and Minneapolis Mayor Jacob Frey, as was Rev. Jesse Jackson and Martin Luther King III.
The ceremony began with words from the Floyd family's attorney Ben Crump, who spoke of his hope for a brighter future. "What we are doing is helping America be America for all Americans," he said. "George Floyd is the moment that gives us the best opportunity that I have seen in a long time of reaching that high ideal that this country was founded upon."
Several family members also delivered remarks, sharing memories of George's childhood and personal anecdotes about their late Perry, as they called him. "Everybody wants justice for George," his brother, Philones, said. "He's gonna get it."
Al Sharpton was one of the last speakers to address the congregation. During his eulogy, he spoke of wanting America to be great for the first time for its black citizens.
"George Floyd should not be among the deceased," he began. "He did not die of common health conditions. He died of a common American criminal justice malfunction." He then took a shot at Donald Trump for his controversial move earlier this week when he posed with a Bible near the White House amidst Black Lives Matter protests.
"We cannot use Bibles as a prop," Rev. Al said. "And for those that have agendas that are not about justice, this family will not let you use George as a prop."
A second memorial service for George will be held on June 6 in Raeford, North Carolina, the state where Floyd was born, at Cape Fear Conference B Headquarters. The public viewing will be held from 11 a.m. to 1 p.m. ET and the memorial service will start at 3 p.m ET.
Floyd's celebration of life services will then head to Houston, Texas, where he'd previously lived.
On Monday (June 8), there will be a public memorial service — the Fort Bend Memorial Planning Center is handling arrangements — that will take place from noon to 6 p.m. local time at The Fountain of Praise Church at 13950 Hillcroft Ave. Center operator Bobby Swearington said, per USA Today, they are working to find a way to livestream the services on their Facebook page and website.
And on Tuesday (June 9), a private service will be held at an undisclosed location.
Photo: Getty Images
Chat About T.I., Kevin Hart, Tiffany Haddish & More Attend George Floyd Memorial