Megadeth Has Officially Begun Recording 'Dystopia' Follow-Up
By Andrew Magnotta @AndrewMagnotta
June 8, 2020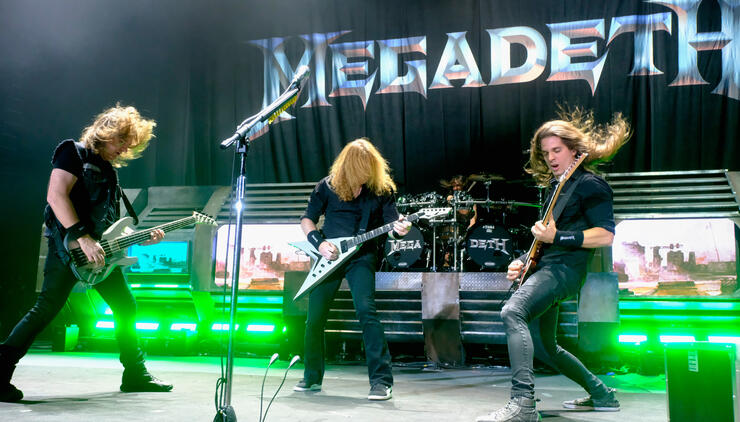 Weeks after he proclaimed that Megadeth would not record its new album remotely due to the pandemic, bassist Dave Ellefson confirmed that he just returned from some in-person tracking sessions in Nashville.
In May, Ellefson explained that it was important to the band to be together while recording the follow-up to 2016's Grammy award-winning Dystopia. The band arranged much of the new music last summer while frontman Dave Mustaine was undergoing cancer treatments.
Ellefson says he and drummer Dirk Verbeuren laid down rhythm section parts together last week.
"So it's underway. I think that's the good news now — the album is officially underway," Ellefson announced in a conversation with The Metal Circus. "We've been writing it since late-2017...the ship is sailing, which is great."
Sixteen albums into its career, Ellefson said the band is still finding ways to be "bold" when it comes to making new music.
"I think for us, what we find is that when we're in a room, and we're playing something, and if we're all going, 'Yeah, that's freaking awesome,' if we like it, chances are you're all gonna like it."
Megadeth was scheduled to go on tour with Lamb of God this summer. But those plans were put on hold due to the coronavirus pandemic.
Photo: Getty Images
Chat About Megadeth Has Officially Begun Recording 'Dystopia' Follow-Up