Aunt Jemima Brand To Change Its Name & Logo Due To Racist Origins
By Paris Close
June 17, 2020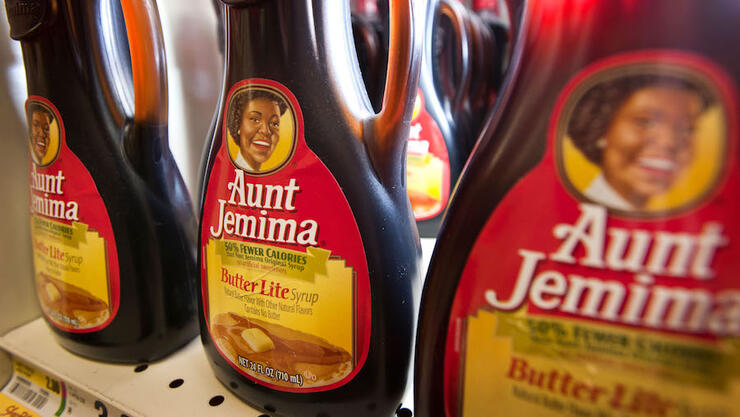 Aunt Jemima is getting a major makeover.
On Wednesday (June 17), Quaker Oats announced it will be replacing the name and logo the company is now acknowledging has origins based on racial stereotypes. "As we work to make progress toward racial equality through several initiatives, we also must take a hard look at our portfolio of brands and ensure they reflect our values and meet our consumers' expectations," the company told CNN Business.
The Aunt Jemima brand is more than 130 years old and its appearance has gone through many transformations over the years. Based on the minstrel song "Old Aunt Jemima," a tune reportedly sung by slaves, Quaker Oats denotes on its website that the Aunt Jemima logo first appeared in 1890. The original design was based on Nancy Green, someone who the site describes as a "storyteller, cook, and missionary worker" — disregarding the fact that Green was born into slavery.
There have been many calls for the retirement of the Aunt Jemima brand. In 2015, Riché Richardson, a professor at Cornell University, published an opinion piece in the New York Times criticizing the image for its ties to "Southern racism," adding that Aunt Jemima's imagery is based on a "mammy" archetype, a servant character made popular in minstrel shows for her dark skin and white teeth and her commitment to nurturing her white master and mistress' children before her own. 
What's more, Quaker Oats has been infamously known for running racially offensive ads in which actresses are cast as mammy types. These days, the company describes Aunt Jemima as a warm, approachable maternal figure. However, considering the current climate with the nation's reckoning with racism following the death of George Floyd, the brand is one among many on course to rectify its racist history.
As yet, Pepsi has not provided more details of its new logo or name for its Aunt Jemima rebranding, set to unveil this fall.
Photo: Getty Images
Chat About Aunt Jemima Brand To Change Its Name & Logo Due To Racist Origins