Black Sabbath Is Now Selling An Official Black Lives Matter T-Shirt
By Andrew Magnotta @AndrewMagnotta
June 17, 2020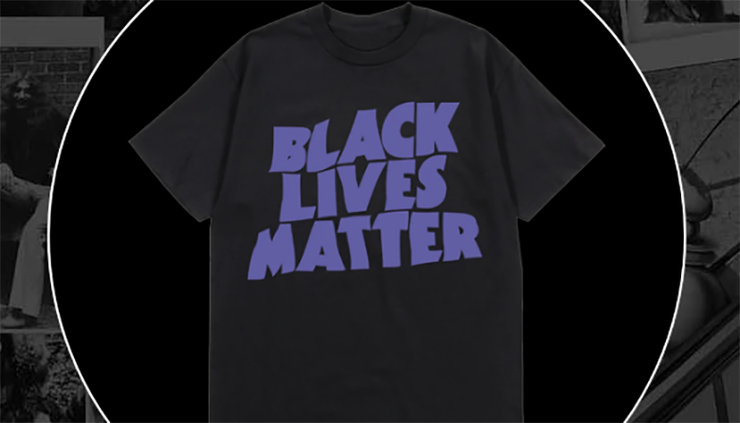 Black Sabbath is lending its support and proceeds from a new t-shirt design to the Black Lives Matter movement.
The iconic British heavy metal band recently added to its store a new black and purple shirt, meant to evoke the band's 1971 Masters of Reality album (also one of its more popular merch designs).
But instead of being emblazoned with the band's logo, the shirt reads 'Black Lives Matter' in the classic Black Sabbath font. They are on sale for $25 each.
A note on Sabbath's online store says that 100 percent of the net proceeds from sales of the shirt will benefit Black Lives Matter Global Network Foundation, Inc. The shirts will ship on or around July 14, 2020.
International support for Black Lives Matter has exploded since the murders of Ahmaud Arbery, who was shot while out jogging; Breonna Taylor, who was killed by police who used a battering ram to enter her home in the middle of the night; George Floyd, who died on the street handcuffs in front of three cops while a fourth knelt on his neck for 9 minutes; and Rayshard Brooks, who was shot twice in the back by an officer while fleeing a DUI arrest.
Protests including hundreds of thousands of people have been held in cities worldwide, calling for an end to racial injustice and police brutality.
The shirts have arrived in the Black Sabbath apparel store a week after Rage Against the Machine guitarist Tom Morello shared a photo of himself posing next to his 96-year-old mother wearing a similar-looking one.
Photo: BlackSabbathApparelShop.com
Chat About Black Sabbath Is Now Selling An Official Black Lives Matter T-Shirt