T.I.'s Daughter Recalls His 'Traumatizing' Remarks About Her Virginity
By Hayden Brooks
June 17, 2020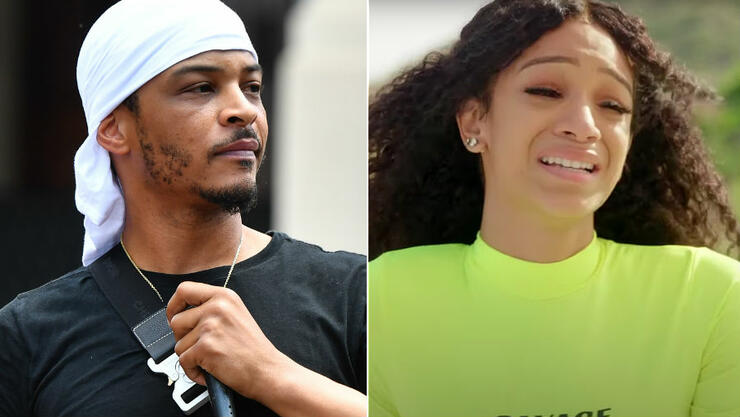 T.I.'s daughter, Deyjah Harris, broke down in tears in a new episode of T.I. & Tiny: Friends and Family Hustle as the teenager reacted to her father's past comment about making year trips with her to the gynecologist to ensure she's a virgin.
On the Monday (June 15) episode of the VH1 series, Harris, 18, spoke about the viral buzz regarding the remarks while the family was on vacation. "Things are completely uncomfortable for me right now," the 18-year-old said during the show's confessional. "We're all together in this house, so I have to see my dad and be around him. And we're in a foreign country so it's not like I can leave and get away."
"I'm scrolling on Twitter, and I see that I've been tagged in a post," the college student explained. "The only word that I saw was 'gynecologist' and I didn't even need to read the whole title 'cause I just knew. My heart sank — very shocked, hurt, angry, embarrassed."
In a conversation with her older cousins, Harris admitted that she was falling on unhealthy mechanisms in processing the situation. "I'm trying to put it in the back of my mind so I'm not really thinking about it. I know it's not healthy," she said. "But I've been doing that since I was a child."
"I need more time to figure out what I want to say, but things are completely awkward and uncomfortable between me and my dad," she continued, adding that the situation "was just a little traumatizing" for her. "Prior to all of this happening, our relationship was pretty decent, but after all of this, it's changed, honestly."
As you might recall, T.I. sparked a wave of backlash after he made the confession during an episode of the "Ladies Like Us" podcast in November 2019. Soon after, he took to Jada Pinkett Smith's Red Table Talk to speak about the criticism. "From a place of truth, I began to embellish and exaggerate and I think a lot of people took it extremely literal," he explained, adding that the visits to the gynecologist were made when she was younger and neither Harris nor her mother, Ms. Niko, had any"objections to his attendance.
Photo: Getty Images/YouTube/VH1
Chat About T.I.'s Daughter Recalls His 'Traumatizing' Remarks About Her Virginity