Rihanna, Ariana Grande & More Sign Open Letter Asking For Police Reform
By Peyton Blakemore
June 24, 2020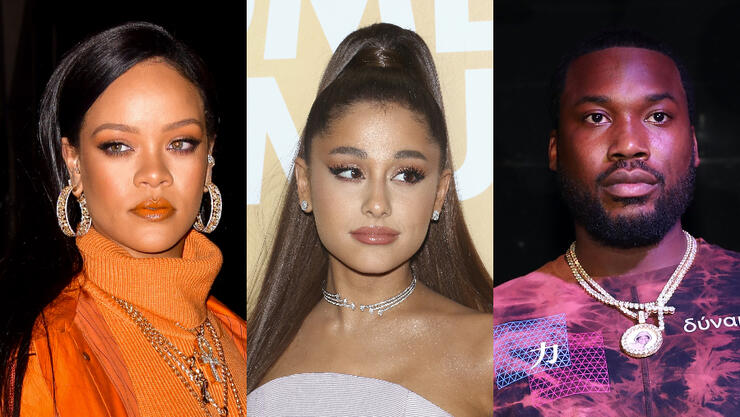 Rihanna, Ariana Grande, Meek Mill, Justin Bieber, and Billie Eilish are among the hundreds of entertainers who have signed an open letter supporting the U.S. House of Representatives' Justice in Policing Act of 2020.
The letter, which was addressed to Speaker of the House Nancy Pelosi and House Minority Leader Kevin McCarthy, asks that the House vote "Yes" to "hold law enforcement accountable for their actions by ending religious and racial profiling, banning chokeholds and no-knock warrants, requiring body cameras, investigating police misconduct, and changing the culture of law enforcement," Pitchfork reports.
"The Justice in Policing Act is not about marginal change; it takes bold steps that will make a real, positive difference for law enforcement and the communities they serve," the letter reads. "We celebrate the long-overdue rejection of qualified immunity, emphasizing that law enforcement officers themselves are not above the law –that bad cops must be held accountable and victims must have recourse. We applaud the provisions to ban chokeholds and no-knock warrants, to establish a national police misconduct registry, to collect data and improve investigations into police misconduct, to promote de-escalation practices, to establish comprehensive training programs, and to update and enhance standards and practices."
"This legislation will not only promote justice; it will establish a culture of responsibility, fairness, and respect deserving of the badge. Our communities and nation look to you to take a stand in this extraordinary moment and we respectfully ask that you vote YES on the Justice in Policing Act of 2020."
See the full letter as well as the hundreds of famous signees HERE.
Photo: Getty Images
Chat About Rihanna, Ariana Grande & More Sign Open Letter Asking For Police Reform