BSB's AJ McLean To Kick Off iHeartRadio's 'Summer Camp With The Stars'
By Taylor Fields
June 26, 2020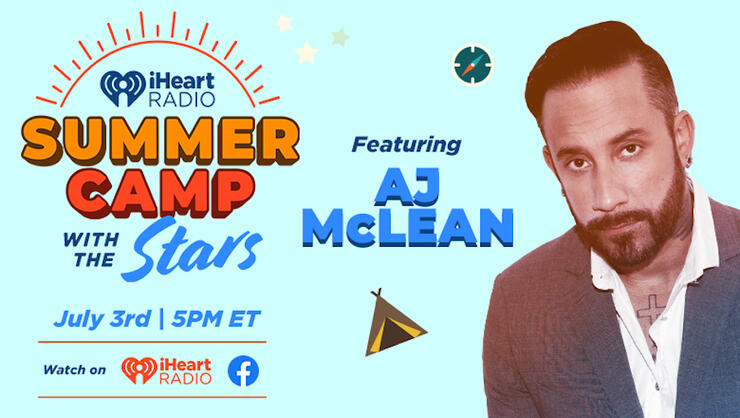 Each year, kids across the country go off to summer camp, but due to the coronavirus pandemic, many campers will be missing out on all the fun this year — but, not for long, because iHeartRadio's "Summer Camp with the Stars" is kicking off in July and will take place each week throughout the month.
"Summer Camp with the Stars" will feature a few of the biggest stars in music — AKA your camp counselors — as they host family-friendly activities remotely from their own homes, and the series will begin on Friday, July 3rd with AJ McLean of the Backstreet Boys. Fans already know AJ's a great dancer, but the BSB star will be leading a dance class with his daughter from their home. So, get your dancing shoes ready!
Tune in to "Summer Camp with the Stars" on Friday, July 3rd — as well as every Friday in July after — at 5pm ET on iHeartRadio's Facebook page.
In a statement, McLean said of kicking off the four-week series, "I'm thrilled to be the first camp counselor for 'Summer Camp with the Stars,' especially since I get to share the experience with my daughter. It's so important that we still find moments to just have fun with our children during such a strange time. I hope everyone is ready to dance!"
So, make sure to tune in every Friday in July, because summer camp is in session.
Chat About BSB's AJ McLean To Kick Off iHeartRadio's 'Summer Camp With The Stars'