To Mask Or Not To Mask: The Great Debate on 'Reopening America'
By Diana Brown
June 30, 2020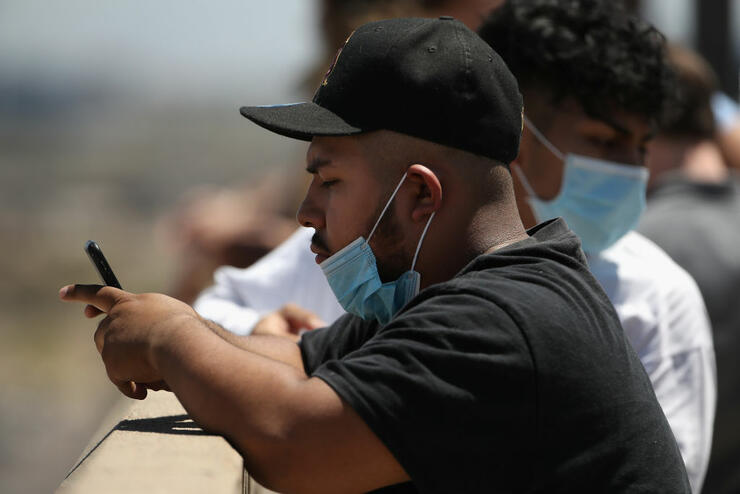 On this episode of Reopening America, host Oscar Ramirez talks with Wall Street Journal reporter Alicia Caldwell about Arizona's face mask mandate. Arizona, along with several other states, began enthusiastically reopening bars, restaurants, gyms, hair and nail salons, and other businesses in mid-May after a six-week lockdown. At first, Governor Doug Ducey shared guidelines about social distancing and mask wearing with business owners, but stopped short of mandating or requiring any of these practices for citizens. But within a few weeks, coronavirus cases started to skyrocket, and cities and counties in Arizona started putting pressure on the governor to allow them to enforce stricter policies on a local level. He finally did, and now every city in Arizona has mandated wearing a mask in public places or in crowded indoor places like malls and restaurants. But will Arizonans actually wear them? 
The mask debate is a tough one, Alicia says, especially in a mostly conservative state; business owners who enforced the social distancing and mask wearing policies faced a lot of pushback from their clientele. These customers feel that requiring a mask is an infringement on their personal liberty; if their doctor told them to wear it, or if they feel sick, they'll wear one, but otherwise, the government has no right to tell them what to wear or how to comport themselves in public. They also have fears that the masks lead to health problems, either by cutting off their breath or causing carbon dioxide poisoning. Though very little evidence exists to support this argument, it has become a very strong personal belief for many U.S. citizens. 
But business owners are complying because they want to get back to work. Even with social distancing in place severely limiting their capacity, the worst-case scenario is another shutdown, Alicia says. Every business owner, regardless of their personal feelings about masks and social distancing, is willing to deal with customer pushback to prevent that scenario. Unfortunately, it looks like they won't get their wish; this morning, Governor Ducey, citing "brutal" coronavirus data in Arizona, rolled back the state's reopening and required businesses to close their doors for thirty days in an attempt to flatten the curve. Will this additional economic hit change anyone's mind about masks? Only time will tell. Listen to the episode for more about masks, Arizona's potential political future, and more on Reopening America.
If you want to be sure you're listening to the podcasts everyone else is checking out, iHeartRadio has you covered. Every Monday, iHeartRadio releases a chart showing the most popular podcasts of the week. Stay up to date on what's trending by checking out the chart here. There's even a chart just for radio podcasts here, featuring all your favorite iHeartRadio personalities like Bobby Bones, Elvis Duran, Steve Harvey and dozens of others.
Photo: Getty Images
Chat About To Mask Or Not To Mask: The Great Debate on 'Reopening America'