Remembering Broadway Star Nick Cordero On 'Fake Doctors, Real Friends'
By Diana Brown
July 9, 2020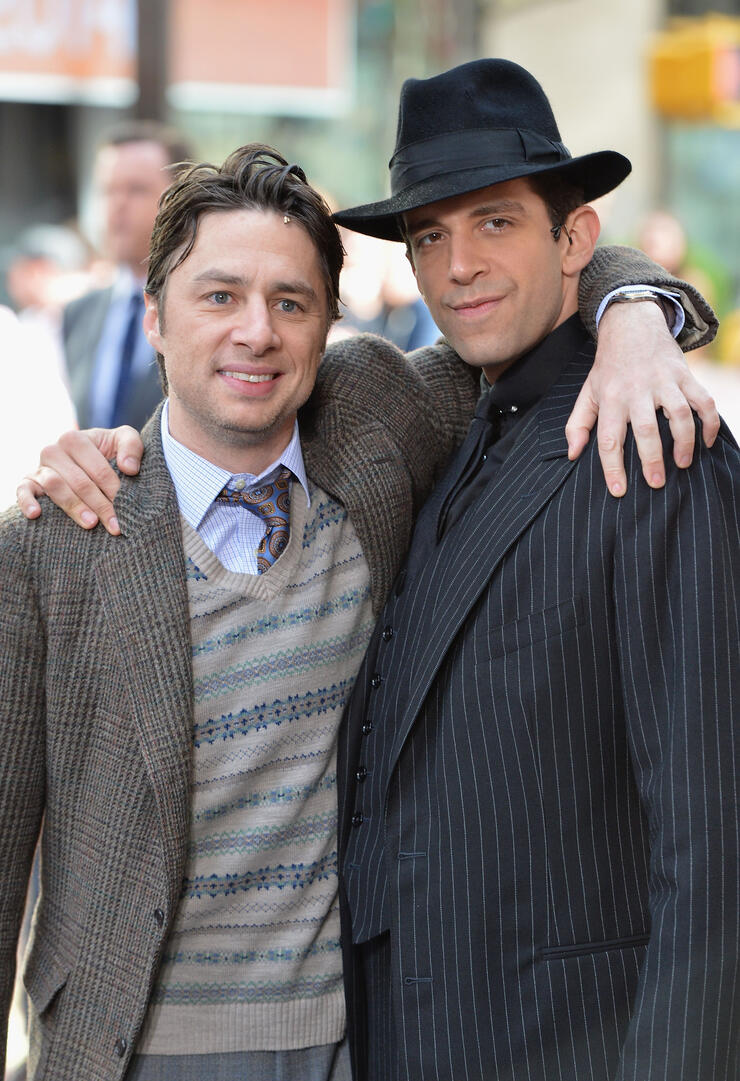 On this episode of Fake Doctors, Real Friends, Zach Braff and Donald Faison take some time to remember Nick Cordero, the Broadway star who recently passed away from complications from Covid-19. Zach was good friends with Nick; they met when they were both cast in Bullets Over Broadway. No one had heard of him before, but when he sang, "everyone's jaws just dropped to the floor." And one of the dancers in the show, Amanda Kloots, "perked up when she saw this super handsome, 6'5 guy who sang like Sinatra." They were married and had a baby boy, Elvis; they were planning to move to L.A. so Nick could pursue a music career. But coronavirus had other plans.
Nick didn't have any of the early suspected symptoms, Zach says; he was just tired. "Couldn't get out of bed." He tested negative for the virus twice. Then, he fainted while he was changing Elvis. Amanda dropped him off at the emergency room; she couldn't go in, because of hospital restrictions, so she told him to text her when she could come back and get him. But she never saw him fully conscious again. When he passed away, his lungs looked like he had been a lifetime smoker; he developed blood clots so bad he had to have a leg amputated; he was on dialysis and a Pacemaker. "People think it's like the flu, and for some people it is," Zach says. "But for some, it's like Nick, where it destroys your body." He and Donald vow they will be very involved in Elvis's life: "Fortunately for me, his father loved musicals, so I will be able to do my part," Zach quips. "I don't have to do any of that throw-a-baseball s**t. You can do that part." 
Then they get into the Scrubs episode, "My Nightingale," which Donald sums up in thirty seconds by saying that all the doctors feel unappreciated, so the show goes through a lot of different things to show that the people truly unappreciated in a hospital are nurses. "Show nurses respect!" he says. Donald doesn't like how misogynistic Turk is in this episode and says "he had it coming" when he gets punched in the face by a patient. Zach discusses some questionable merch he'd like to get made up, they sing The Facts Of Life theme song together, and Zach reveals that he has finally watched Donald in Remember the Titans, so they talk about Ryan Gosling and Denzel Washington. And they play us the only original song Nick got to record before he was stricken with Covid. Hear all about Nick's extraordinary talents, Zach's tiny booty, and more on this episode of Fake Doctors, Real Friends.
If you want to be sure you're listening to the podcasts everyone else is checking out, iHeartRadio has you covered. Every Monday, iHeartRadio releases a chart showing the most popular podcasts of the week. Stay up to date on what's trending by checking out the chart here. There's even a chart just for radio podcasts here, featuring all your favorite iHeartRadio personalities like Bobby Bones, Elvis Duran, Steve Harvey and dozens of others.
Photo: Getty Images