Tim McGraw Declares New Album 'Here On Earth' + Releases Title Track
By Lauryn Snapp
July 10, 2020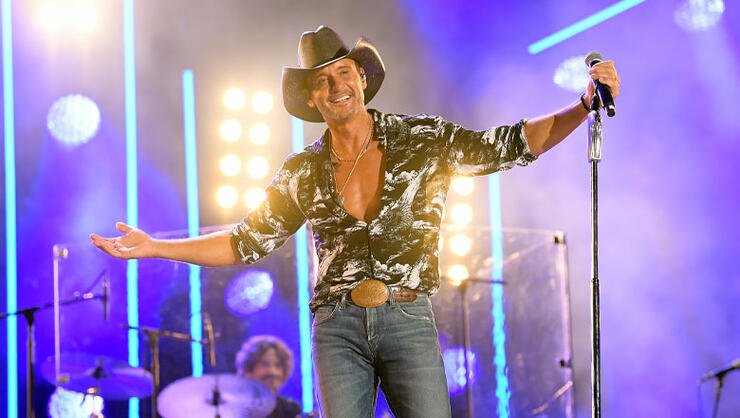 Like many country stars, Tim McGraw pumped the breaks on his 2020 'Here On Earth' tour, but he is not pausing the music. 
Tim has announced his new album, 'Here On Earth' is on the way. The record is set to arrive on August 21st and will launch with a live stream and full-album performance. 
In a recent interview with Cody Alan, Tim shared his thoughts on pausing his tour in 2020, and his love for performing.
"We were just getting into designing the stage, and we were just starting to get into the building part process. So luckily, we weren't too far along when we had to stop and freeze everything completely," says the "Live Like You Were Dying" singer. "We all hope that touring goes back just the way it was, with everybody in this collective environment to just forget about their problems and listen to the music, but, whatever it goes back to be, my guys and I will be ready to hit the stage and give a great show!" 
"Nobody got into this business just so excited to sing into a vocal microphone in a lonely isolation booth, for days on end, and that was going to be your career. I wanted to be out on-stage playing music and playing with some of the world's best musicians. My band is some of the best musicians in the world, and they are also some of my very best friends in the world, so to be on stage with that level of talent is something that I miss daily." 
RELATED: From Stage To Screen With Tim McGraw.
Listen to "Here On Earth" by clicking the link below and gear up for the full album coming this summer!
HERE ON EARTH Track List: 
1. "L.A." | Carlton Anderson, Shane Minor, Phil O'Donnell
 2. "Chevy Spaceship" | Jonny Price
 3. "Here On Earth" | Jessie Joe Dillon, Chase McGill, Jon Nite
 4. "Damn Sure Do" | Tony Lane, James T. Slater
 5. "Hallelujahville" | Tom Douglas, Blake Griffith, Brett Taylor
 6. "Good Taste In Women" | Jaren Johnston, Bryan Simpson, Nathan Spicer
 7. "Hard To Stay Mad At" | Luke Laird, Shane McAnally, Lori McKenna
 8. "Sheryl Crow" | Wendell Mobley, Neil Thrasher, Laura Veltz
 9. "Not From California" | Levi Hummon, Marcus Hummon, Matt McVaney, Brad Warren, Brett Warren
 10. "Hold You Tonight" | Ross Copperman, Jon Nite
 11. "7500 OBO" | Matt McGinn, Jennifer Schott, Nathan Spicer
 12. "If I Was A Cowboy" | Zack Dyer, Lonnie Lee Fowler, Dave Turnbill
 13. "I Called Mama" | Marv Green, Lance Miller, Jimmy Yeary
 14. "Gravy" | Andy Albert, Tom Douglas, Allen Shamblin
 15. "War Of Art" | Lance Miller, Jeremy Spillman, Brad Warren, Brett Warren
 16. "Doggone" | Claire Douglas, Tom Douglas, Jaren Johnston, Aimee Mayo
Photo Credit: Getty Images.