Mike Shinoda 'Accidentally' Made A Panic At The Disco Song On Twitch: Watch
By Katrina Nattress
July 23, 2020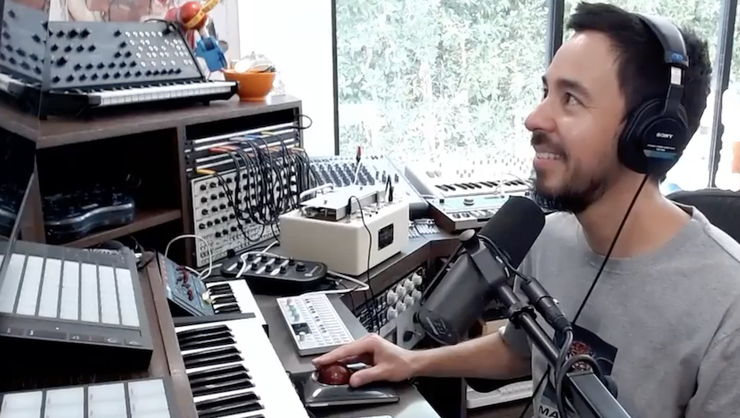 Presidential hopeful Mike Shinoda just released Dropped Frames Volumes 1 — an album created during his daily Twitch sessions — but that doesn't mean his daily fun with fans is coming to an end. Every weekday morning, the Linkin Park cofounder hangs out online and creates tracks based on fan suggestions. And this week, he "accidentally" made a Panic! At The Disco track while mixing some interesting sounds together. The finished project was too good not to share with the masses, so Shinoda posted a video on Instagram.
"On Tuesday, I used Garage Band to mash up Disney, Migos, Latin percussion, and accidentally came up with a Panic At The Disco track. We have fun," he captioned the clip, which shows his process of making the song.
See Shinoda's post below.
Aside from goofing around on Garageband, Shinoda also answers fan questions during his livestreams and last month teased an unreleased Linkin Park song that features Chester Bennington's vocals. Unfortunately, we won't be able to hear it any time soon.
"Yeah, okay, we're going to put out a brand new f**king Linkin Park song with Chester's voice on it out. I don't think so," he said when a fan suggested dropping it on Twitch. "You literally are going to have to wait years to hear that song."
Photo: Getty Images
Chat About Mike Shinoda 'Accidentally' Made A Panic At The Disco Song On Twitch: Watch