MONSTA X Shows Fans How to Make Korean Watermelon Punch
By Taylor Fields
July 24, 2020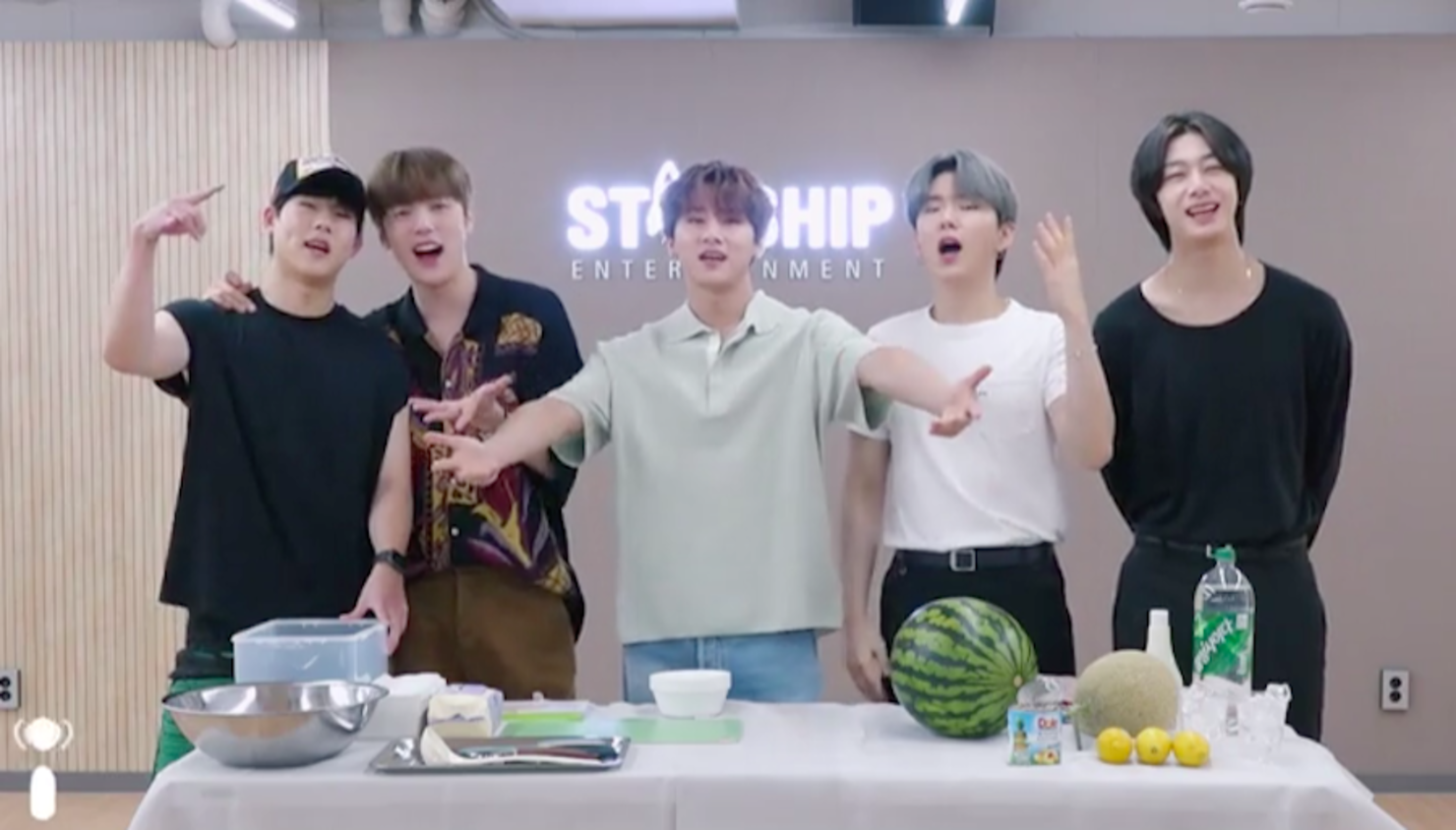 On a hot summer day, there is nothing more refreshing than cool drink, and MONSTA X has shown us how to make a delicious punch that is perfect for the season.
During the latest episode of iHeartRadio's "Summer Camp with the Stars," the band (minus Shownu, who recently had eye surgery) took on camp counselor duties as they showed fans how to make Subak-Hwachae, a Korean watermelon punch.
To make Subak-Hwachae, you'll need a watermelon, cider, a melon (which is actually optional), canned pineapple, condensed milk and ice. The guys cut up the watermelon into bite-sized cubes, and combined them with the rest of the ingredients in a large tub (a large bowl would work too), and voila! Delicious, sweet and refreshing Subak-Hwachae.
The band's I.M. told fans of the delicacy, "There has been a culture here in Korea of making watermelon punch on summer days and sharing it with with all of the neighbors."
And while making the Subak-Hwachae, Minhyuk explained that he hopes all the Monbebes across the world gives the punch a try. He said, "I actually think everyone could enjoy eating this watermelon punch during the summer season."
Summer Camp With The Stars

MONSTA X (몬스타엑스) will be teaching us how to make "Subak-hwachae" which is Korean watermelon punch! Join us for 'Summer Camp with the Stars' this Friday at 5pm ET right here on FB!

Posted by iHeartRadio on Friday, July 24, 2020
MONSTA X also talked about some of their favorite things to do during summer, which includes staying at home in the air conditioning, and eating ice cream and watermelon. But, aside from ice cream and watermelon, the band also has some other favorite summer foods, including Naengmyeon, which is a Korean cold noodle soup.
After trying a little bit of their freshly-made Subak-Hwachae, MONSTA X then performed their song "You Can't Hold My Heart" from their first English studio album All About Luv, which they released earlier this year in February. The album also includes "Who Do You Love?" featuring French Montana, "Love U" and their Pitbull collaboration "Beside U."