5 Travel Podcasts To Dream Over While You Plan Your 2021 Vacation
By Diana Brown
July 27, 2020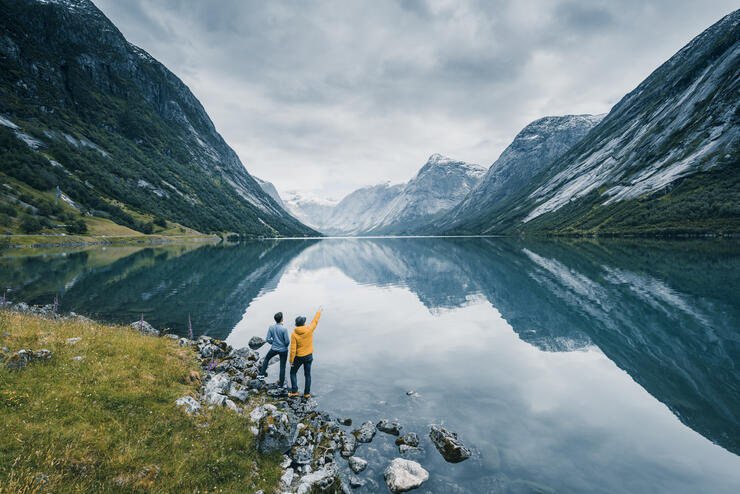 The coronavirus pandemic may have canceled all our plans in 2020 and restricted travel to basically our backyards, but while we're stuck at home, some of us are already creating Pinterest boards and spreadsheets to plan a big celebratory trip when the world opens back up. Let these five podcasts help you pick out dream destinations, whether it's eating the best barbecue in Austin or seeing alms-giving ceremonies in Laos; broaden your horizons with insightful histories and traditions explored through food; or even help you plan a Covid-safe vacation this year right here in the U.S. at some of our beautiful national parks. Whatever your wanderlust wants, these podcasts are sure to deliver, and help you create the perfect travel plans in preparation for the glorious day when we can all venture out again into the unknown.
Hosted by travel writer Daniel Scheffler, Everywhere gets deep about travel: Why we do it, what we should really be looking for from it, and how to be the best travelers we can be as we traverse the globe, framing each episode as a "travel commandment" we should follow to make our experiences more fulfilling, meaningful, and life-changing. He tells his own stories of trips to far-flung places, and welcomes on a variety of guests like A Handmaid's Tale author Margaret Atwood and System of a Down's Shavo Odadjian, to share tales of feeding stray dogs in Cairo to hot-air ballooning in Turkey to being smuggled into Guatemala and so many more. If you want to truly get the most out of your next adventure, Everywhere is the podcast to help you do it.
The most realistic trip we can take right now is to get into the car or an RV and hit up some state or national parks. Social distancing is fairly easy to achieve, and enjoying the great outdoors is much safer, virus-wise, than crowding into restaurants and bars. Matt and Brad Kirouac have spent over a year living full-time in an RV with their dog, Finn, with the goal of visiting as many national parks as possible. On Parklandia, they share their experiences and reviews of beloved national parks like the Painted Desert, the Arches, Cumberland Island, Mammoth Cave, Shenandoah National Park, and many more, complete with food recommendations. There's a lot to see in our own beautiful country – add some sights to your bucket list with Parklandia as your guide.
Globetrotting celebrity chef Hugh Acheson knows that the best trips always start with a good meal. On The Passenger, he combines his own anecdotes and opinions with in-depth interviews and conversations with the locals to tell us about the best food, drinks, cinema, music, and culture to be had in a variety of locations. From Havana and Montreal to Idaho and Texas, complete with great guests like Alamo Drafthouse's Creative Director Chris Bilheimer, Afro-Cuban musician Cimafunk and many more, The Passenger can help you dream about and prepare for some incredible sights – and tastes! – when we can once again venture out into the wider world.
A Way To Go, the podcast from go-to travel forum Fathom, leaves no stone unturned when it comes to traveling. Episodes include wild adventures like a five-day trip in India to save the elephants, a safari in Botswana and Zambia, tagging Thailand with famed graffiti artist Worldwide Crudo, or even just the most magical tips for visiting Disney World, as well as more serious topics like advocating for refugees in Jordan and Venezuela or talking to a girl who traveled by necessity because her father was a fugitive. A Way To Go offers an in-depth look at why we travel, what our wanderlust says about us, and uncovers unexpected insights and the best insider tips to turn your travel dreams into reality.
One of the best ways to experience is a culture is through the food, and no one knows better about the power of food to tell a story than Point of Origin. Through ingredients like dates, honey, and saffron, we learn about Egypt and Iran; drinking tea and eating rice takes us all over the world from Sri Lanka to Taiwan to England to Vietnam; examining the history of clay pots and cooking vessels tells us the story of ancient recipes that we can still taste today in Japan and Greece. Point of Origin highlights Black and Indigenous people telling the stories of their food, lands, and traditions, enthusiastically uplifting their voices to give travel podcasts some much-needed diversity of perspective and experience that will make any trip much more rich, fascinating, and impactful than ever.
If you want to be sure you're listening to the podcasts everyone else is checking out, iHeartRadio has you covered. Every Monday, iHeartRadio releases a chart showing the most popular podcasts of the week. Stay up to date on what's trending by checking out the chart here. There's even a chart just for radio podcasts here, featuring all your favorite iHeartRadio personalities like Bobby Bones, Elvis Duran, Steve Harvey and dozens of others.
Photo: Getty Images
Chat About 5 Travel Podcasts To Dream Over While You Plan Your 2021 Vacation