Coronavirus Vaccine Trials & Worrying Wage Cuts On 'The Daily Dive'
By Diana Brown
July 28, 2020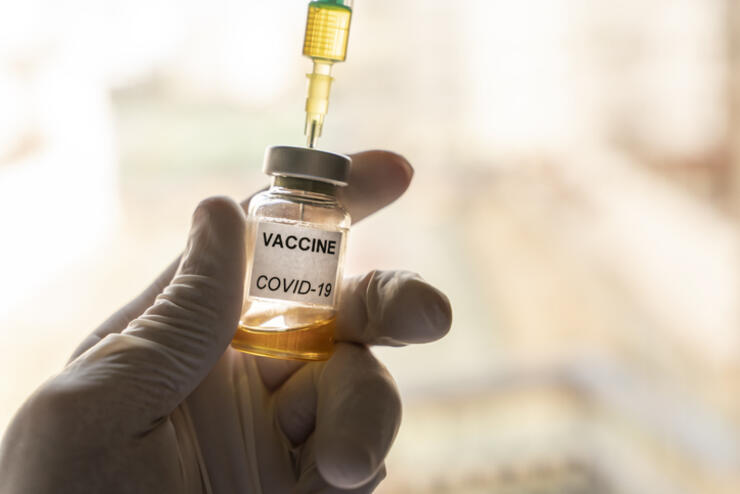 On this episode of The Daily Dive, host Oscar Ramirez gets into the good news about the coronavirus vaccine trials, talking with Axios World Editor Dave Lawler for information about all three vaccines currently showing promising results in the U.S., the U.K., and China. We also hear from Politico's Economics reporter Megan Cassella about the ongoing economic impact of coronavirus shutdowns, particularly the wide-reaching wage cuts many workers took back in March that could become permanent. Finally, Rachel Adams Heard of Bloomberg joins Oscar to talk about what schools can learn from summer camps when it comes to reopening in the fall and keeping kids, and staff, safe from infection.
Oxford University and AstraZeneca announced that their vaccine is showing a strong immune response, with patients showing antibodies and increased levels of T-cells. Thanks to these encouraging results, they're starting phase three of the vaccine trials, along with two other promising vaccines, one called Moderna out of Cambridge, Massachusetts, and another that's being developed in China. Dave Lawler says phase three is a broader range of testing, intended to find out if the side effects are pretty predictable, if the vaccine actually prevents the virus or if it just makes the infection easier to fight, and so on, so we still are looking at early 2021 before it'll hit the market. But he stresses that "it's a scientific miracle" that three separate vaccines look good enough to enter phase three of testing only seven months after we discovered the coronavirus – so though it might feel like it's taking a long time, we're on a fast track already. 
Economically, we're concentrating most on unemployment benefits and job losses, but not talking much about wage cuts – both salaried and hourly workers have been asked to accept smaller paychecks to prevent them losing their jobs altogether. But since the shutdowns have persisted longer than expected, the fear is that these pay cuts could become permanent, or lead to more layoffs in the coming months. And with smaller paychecks, people spend less money, making the recession last longer. Megan Cassella also points out that pay cuts are for the most part hitting the top 40% of wage-earners, who are usually somewhat shielded from a recession. It serves to show us the true depth of the recession, though of course the full impacts are still on their way. 
Hear them discuss all this as well as summer camps' pandemic preparedness and if schools have anything to learn from them, what it means for small countries if the richest governments pre-order millions of doses of the vaccine, and much more on this episode of The Daily Dive.
If you want to be sure you're listening to the podcasts everyone else is checking out, iHeartRadio has you covered. Every Monday, iHeartRadio releases a chart showing the most popular podcasts of the week. Stay up to date on what's trending by checking out the chart here. There's even a chart just for radio podcasts here, featuring all your favorite iHeartRadio personalities like Bobby Bones, Elvis Duran, Steve Harvey and dozens of others.
Photo: Getty Images
Chat About Coronavirus Vaccine Trials & Worrying Wage Cuts On 'The Daily Dive'