Dua Lipa Announces 'Levitating' Remix With 'Idols' Madonna & Missy Elliott
By Hayden Brooks
July 28, 2020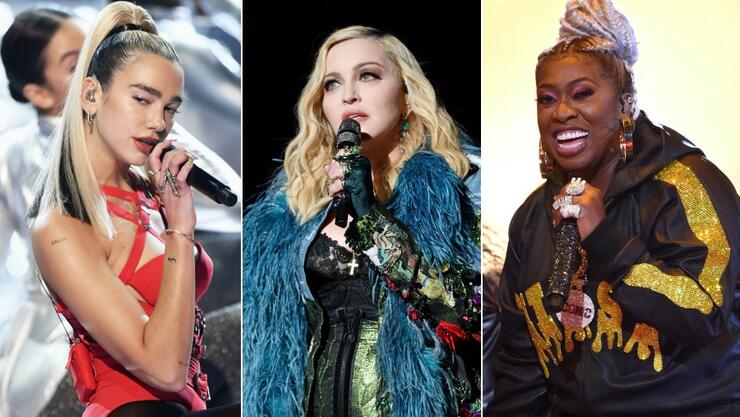 Dua Lipa's upcoming release of "Levitating" will see the pop star team up with "idols" Madonna and Missy Elliott for a remix of the Future Nostalgia cut.
On Monday (July 27), Lipa took to social media to announce the all-female rendition, which was produced by The Blessed Madonna and drops on August 14. "DREAM COME TRUE LETS GO!!!!!!" the star tweeted, alongside of a photo of all the track stars. "Levitating" is the fifth single off her 2020 LP following "Don't Start Now," "Physical," "Break My Heart" and "Hallucinate."
In early June, word of a Lipa and Madonna collaboration spread around the blogosphere, courtesy of the former's manager, Ben Mawson. "She's definitely the complete pop star and obviously this album is heavily influenced by Madonna," Mawson said when referencing Lipa's Future Nostalgia and Madge's 2005 Confessions on a Dancefloor. Both records feature tracks produced by Stuart Price. "In fact, we're about to try and get Madonna on a record. I'm going to write the e-mail and see if she's up for going on a Dua track."
Previously, Dua admitted that she would like to "do a Madonna" and reach a creative peak in her '40s. "I want to do this for as long as I can. I feel Madonna peaked [in her 40s] and made the best pop album known," she reportedly told The Sun in reference to the Queen of Pop's 1998 album, Ray of Light. "Women, we can do it for as long as we want to. And then at some point I'll retire with a couple of dogs and take up smoking again."