'Friends' Fans Think Taylor Swift's Song 'Betty' Was Inspired By Phoebe
By Emily Lee
July 28, 2020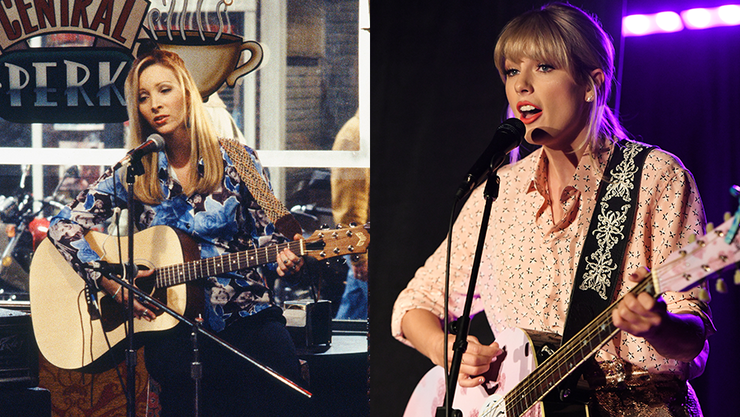 On Friday (July 24), Taylor Swift surprised fans by dropping her secret 8th studio album folklore. In the album announcement, Taylor revealed she wrote and recorded folklore in isolation with help from The National's Aaron Dessner, Bon Iver and her frequent collaborator and friend Jack Antonoff.
Taylor's latest outing features 16 new songs, including a trio of songs—'Cardigan,' 'August,' and 'Betty'—that depict a high school love triangle from three different perspectives. Shortly after folklore dropped. fans of Taylor's music and the beloved sitcom Friends noticed a similarity between 'Betty' and one of Phoebe Buffay's original songs. While Taylor hasn't commented on any of the fan theories circulating online about her new albums, there are definitely some parallels between Taylor and Phoebe's lyrics.
In the scene from Friends, Phoebe performs a tell-all song about the love triangle developing between Ross, Rachel and Ross's new girlfriend Julie. "This is a song, um, about a love triangle…between three people I made up," Phoebe says before she begins singing. "It's called 'Two of Them Kissed Last Night,'" Phoebe blurts out, revealing Ross and Rachel's secret to all of Central Perk. Phoebe then introduces one of the song's main characters as Betty.
"So taylor swift really was just chilling at home watching friends and saw phoebe write a song about a girl named betty in a love triangle and taylor swift really thought "you know what, i'm gonna do that...but better," one fan wrote on Twitter.
Taylor also credited an unknown songwriter named William Bowery on folklore, as well. While some believed William Bowery is really a pen name for Taylor's longtime boyfriend Joe Alwyn, others are now joking it's really Phoebe Buffay instead.
Photo: Getty
Chat About 'Friends' Fans Think Taylor Swift's Song 'Betty' Was Inspired By Phoebe