Green Day, Lorde And More Sign Letter Demanding Politicians To Clear Music
By Katrina Nattress
July 28, 2020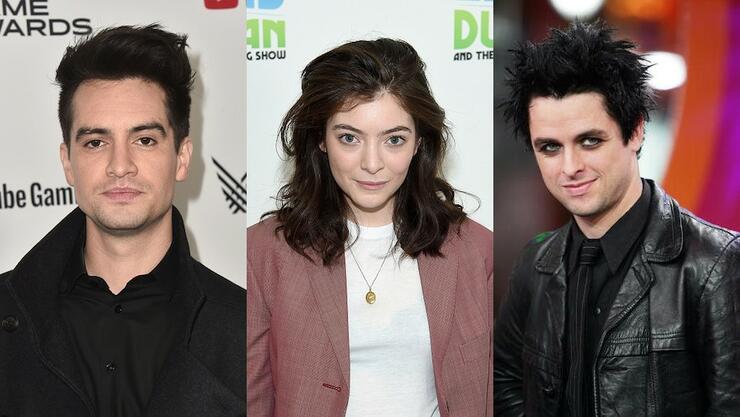 On Tuesday (July 28), a number of bands and artists including Green Day, Lorde, and Panic! At The Disco signed an open letter penned by the Artist Rights Alliance (ARA) that demands political parties to "establish clear policies requiring campaigns to seek the consent of featured recording artists, songwriters, and copyright owners before publicly using their music in a political or campaign setting."
The letter comes after a number of musicians have denounced President Trump for using their music at his rallies without consent. Pearl Jam, Linkin Park, Fall Out Boy, Rolling Stones' Mick Jagger & Keith Richards, Aerosmith's Steven Tyler & Joe Perry, Sia, Regina Spektor, R.E.M, Blondie, Cyndi Lauper, CAKE, Elvis Costello, The Black Keys' Patrick Carney, and Courtney Love also added their names to the message, which also notes "the fundamental right of music creators to decide who can use their music and on what terms." Any politician that does not comply "risks serious legal consequences."
"We've seen so many artists and estates dragged into politics against their will and forced to take aggressive action to prohibit the use of their music – usually songs that are broadcast during political rallies or used in campaign ads," the letter continues. "It can confuse and disappoint fans and even undermine an artists' long-term income – and mostly, it's just not right. Politicians that want to represent the public trust must do better – by seeking consent before exploiting an artist's or songwriter's image and work."
"Many of these artists have spent a lifetime making music that we all know and love. At the very least, it should be their choice – especially in these hyper-partisan times," ADA adds. "With so many creators raising concerns about this issue, it is time to take action and ensure our voices are heard."
The ADA is giving campaign committees until August 10 to respond with how they plan to address their proposed changes. Read the full letter here and see the full list of artist signees below.
Artists That Signed ADA's Open Letter to Campaign Committees Addressing Music Clearance
Aerosmith
Alanis Morissette
Amanda Shires
Ancient Future
Andrew McMahon
Artist Rights Alliance
B-52s
Beth Nielsen Chapman
Blondie
Butch Walker
CAKE
Callie Khouri
Courtney Love
Cyndi Lauper
Dan Navarro
Daniel Martin Moore
Duke Fakir
Elizabeth Cook
Elvis Costello
Erin McKeown
Fall Out Boy
Grant-Lee Phillips
Green Day
Gretchen Peters
Ivan Barias
Jason Isbell
Jewel
Joe Perry
John McCrea
John Mellencamp
Keith Richards
Kurt Cobain estate
Lera Lynn
Lionel Richie
Linkin Park
Lorde
Lykke Li
Maggie Vail
Mary Gauthier
Matt Nathanson
Matthew Montfort
Michelle Branch
Mick Jagger
Okkervil River
Pearl Jam
Panic! At The Disco
Patrick Carney
R.E.M.
Regina Spektor
Rosanne Cash
Sheryl Crow
Sia
Steven Tyler
T Bone Burnett
Tift Merritt
Thomas Manzi
Train
Photo: Getty Images