The Loneliest Mascots In Sports Right Now
By Shayna Spero
August 3, 2020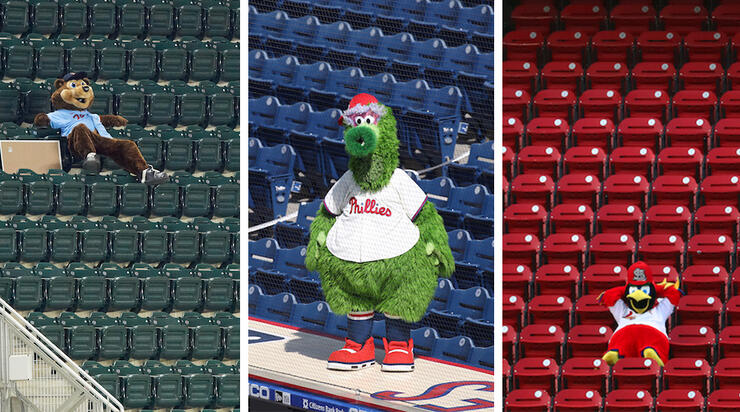 Professional baseball and basketball recently resumed without any fans in stadiums as professional sports leagues face new realities among coronavirus restrictions. For many team mascots used to having fans to interact with and keep them company, there are lonely days ahead. Scroll through to see how your favorite mascots are passing the time:
Mr. and Mrs. Met sit in the empty stands during a game between the New York Mets and the Atlanta Braves at Citi Field on July 26, 2020 in New York City.
T.C., mascot for the Minnesota Twins, enjoys the the game between the Minnesota Twins and the St. Louis Cardinals solo in an empty seating area.
The Phillie Phanatic stands on the dugout during the game between the Miami Marlins and Philadelphia Phillies.
Boston Red Sox mascot Wally the Green Monster dances with cardboard cutout fans.
St. Louis Cardinals mascot Fredbird caught relaxing while watching the game against the Pittsburgh Pirates.
"Biggest Fan", Blooper the Braves mascot relaxes during the exhibition MLB baseball game between the Atlanta Braves and the Miami Marlins.
The St. John's Red Storm mascot sits among empty seats at halftime of a quarterfinal game against the Creighton Bluejays in the Big East Tournament at Madison Square Garden back in March. 
Cleveland Indians mascot Slider being a model citizen and wearing theirmask! 
Stomper, the mascot of the Athletics is laser focused on the game between the Los Angeles Angels and the Oakland Athletics.
Braves mascot Blooper waves the NL East Champs flag before the Braves home opener between the Atlanta Braves and the Tampa Bay Rays.
Arizona Diamondbacks mascot, "D. Baxter the Bobcat" performs to a nearly empty stadium during the second inning of the MLB game against the Los Angeles Dodgers.
Lou Seal, the San Francisco Giants mascot, waves to the fans outside the ballpark during their game against the San Diego Padres at Oracle Park.
Blooper sits in the empty stands to watch the exhibition game between the Atlanta Braves and the Miami Marlins at Truist Park.
The Portland Gherkins mascot 'Lil P' sits in the stands during the game the Gresham GreyWolves.
Chat About The Loneliest Mascots In Sports Right Now