Demi Lovato's Fiancé Max Ehrich Teases Singer's New Album in Sweet Tweet
By Taylor Fields
August 3, 2020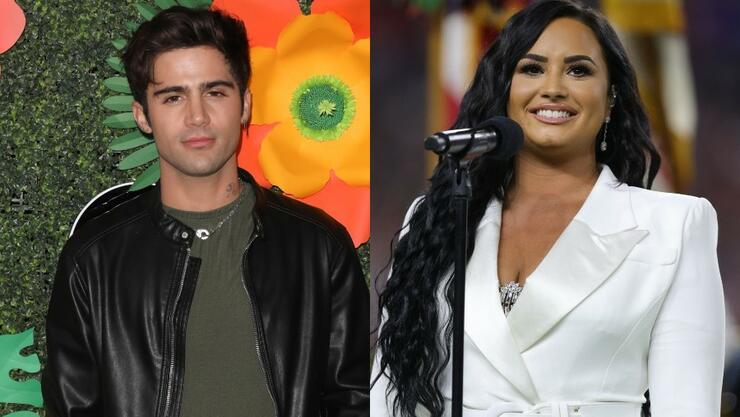 As Demi Lovato fans wait for the singer to release her new album, it sounds like the project is shaping up to a good one, according to Demi's fiancé Max Ehrich.
On Twitter, Ehrich revealed that he was "in awe" while listening to Lovato's new music and tweeted, "I am so in awe listening to ur new music atm you are gifted beyond words." He also used the hashtag #D7, hinting that the new music he was listening to is from Demi's forthcoming seventh full-length album.
Demi responded to her future husband and wrote, "I love you baby - I can't wait for yours too!!!!"
Demi last released an album in 2017, Tell Me You Love Me, and this year has released a few new songs including the emotional "Anyone," "I Love Me" and "I'm Ready" featuring Sam Smith.
Back in April, Lovato told Harper's Bazaar of her new music, "I've really appreciated the patience the public has given me over the past year and a half to figure my s*** out, because I think the mistake I made when I was 18, when I went into treatment, was that I went back to work six months later. But at the same time I've also sat back on the sidelines for two years. I've kept my mouth shut, while the tabloids have run wild. And my album is finally the place where I get to set the record straight on everything."
New music aside, it's been an exciting time for Demi has she and Max got engaged during a beautiful beach proposal. The two looked happy together and afterwards, Demi wrote to Max, "I've never felt so unconditionally loved by someone in my life (other than my parents) flaws and all. You never pressure me to be anything other than myself. And you make me want to be the best version of myself. I'm honored to accept your hand in marriage."
Chat About Demi Lovato's Fiancé Max Ehrich Teases Singer's New Album in Sweet Tweet