Jana Kramer Cries While Revealing Pneumonia Diagnosis is Halting Her Movie
By Taylor Fields
August 5, 2020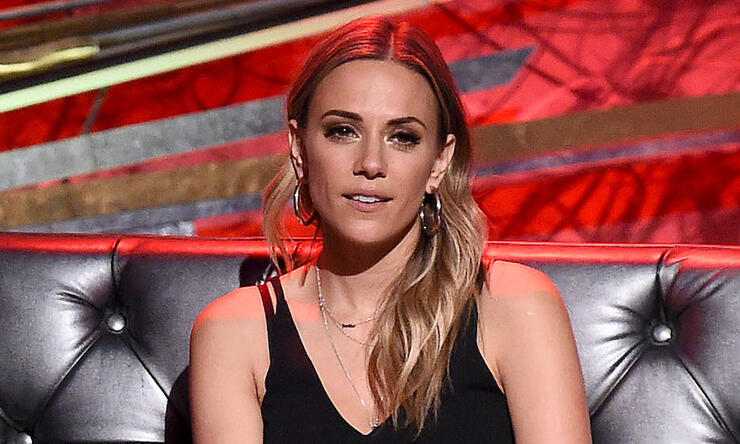 Jana Kramer got emotional while after revealing she had been diagnosed with an early form of pneumonia, which has halted her from working on her new movie, in several tear-filled videos posted to her Instagram stories.
In the clips, she is sitting in bed after returning from an emergency room visit, and while she tested negative for COVID-19, doctors told her she had pneumonitis. She told fans, "Real talk, I'm really upset right now. I just got back from the ER. I have pneumonitis which is a form of early on pneumonia. I was having a really hard time breathing. I got tested again for COVID and was negative again. So somehow, whatever my head cold [was] went into my lungs."
She continued by explaining how upset she was to be missing filming her new movie, saying, "Production has been amazing. I feel terrible, of course. I booked something and I have been sick forever, and then all of a sudden this [happens]. I'm just so upset about it. I'm gonna rest for the next two, three days and take a bunch of medicines. So, I'm gonna be off of here for a minute, because if not, I'm gonna continue to be upset, because i'm not working."
Kramer finished by telling fans she wanted them to know what was going on, because she is "going dark" on social media while she recovers. She said, "Love you guys. Sorry for the sob story, but I just wanted you to know why I'm going dark."
Jana added in written text, "About to go dark from Instagram so I can rest and be ready to go back to work. There is nothing more upsetting then finally getting the chance to work and then randomly get pneumonia which I have NEVER head. But I've got meds, I've got the best movie producers and team that are giving me the time off I need so than you!!"
Just a day earlier, Jana had posted a video with her love interest in the forthcoming movie, played by Brandon Quinn, while a week ago, she had let fans know that she had booked the movie while going over the script. She shared, "I booked a movie and I am so excited to start filming!!!! What kind of movie are you hoping it is?!?!"
Chat About Jana Kramer Cries While Revealing Pneumonia Diagnosis is Halting Her Movie