Thomas Rhett Hooked Himself In The Leg While Fishing In Colorado
By Blake Taylor
August 5, 2020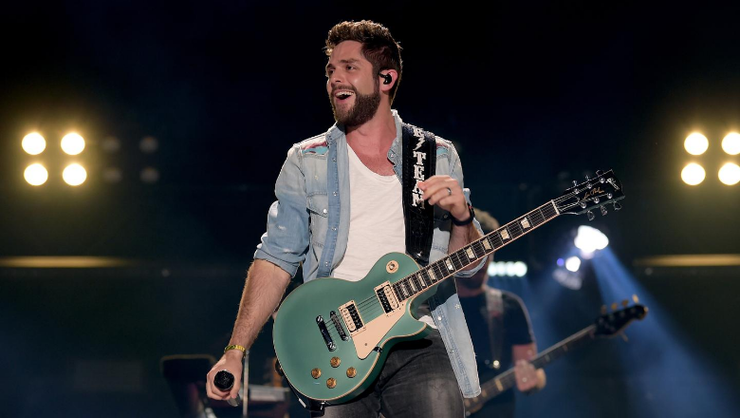 Thomas Rhett had a little accident while fishing in Colorado and he turned to social media to share what happened with fans.
On Tuesday (August 4), the country singer posted a series of photos from a day spent in the beautiful outdoors with his wife Lauren along with Florida Georgia Line's Tyler Hubbard and his wife Hayley.
The first three photos seem nearly perfect starting with the the first shot of Rhett casting a line with the tall trees and wildflowers surrounding him. The second photo shows him holding up the catch of the day while the third is an adorable photo of him and Lauren. Everything seems to be going great up until the fourth photo which shows Rhett with his waders off looking at his leg.
"The day started great!" Rhett wrote in the caption, before explaining his injury. "Then I hooked myself in the back of the leg. Had to push it out the other side, cut the barb off then pull it back through!"
Fans, friends and several fellow singers commented on the post. Russell Dickerson seemed to get a kick out of it writing, "Lollll U WOULD! 😂😂😂😂," while Little Big Town's Karen Fairchild sympathizes with his pain simply commenting, "Ouch." Several others shared clever comments like Diplo who wrote "Country music Bear gryllis" and Devin Dawson who commented, "Insta vs. reality." One fan even brought it back to the music reminding Rhett that there's "nothing a beer can't fix!"
See the full post below.
Chat About Thomas Rhett Hooked Himself In The Leg While Fishing In Colorado