Thomas Rhett Surprises Healthcare Workers With Virtual Performance
By Blake Taylor
August 7, 2020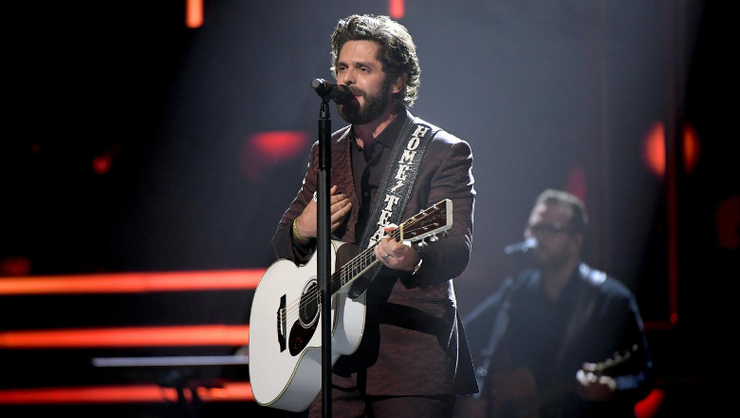 Thomas Rhett is doing what he can to show his appreciation for healthcare workers amid the coronavirus pandemic.
Last week, the country star teamed up with Cisco and Live Nation to deliver a surprise performance to a group of healthcare workers from Banner Health in Arizona and Colorado, and St. Jude Children's Research Hospital in Memphis.
"It was really special to be able to surprise this group of healthcare workers because I'm so appreciative of their incredible work and bravery through this crazy time," Rhett said in a statement. "Even though I can't thank them all in person right now, this was a really cool way to stay connected and offer up my gratitude face-to-face. They are truly inspiring."
In the video, which can be seen below, Rhett tells the group that he has several family members who also work in healthcare so it was important for him to express his appreciation. "Y'all inspire me to want to be a better human being," he says. "So I'm very, very grateful to be on this phone call with y'all today."
"I have to say I was a bit starstruck at first, his music speaks to my heart," Banner Medical Group chief clinical services officer Nancy Zismann said. "As I stood there and shared this moment with my work team, I was so humbled to be part of this event and share with my team a special moment that will never be forgotten."
Rhett performed his uplifting single, "Be A Light," which was released in March, at a time when the world needed it most.
The song, co-written by Rhett alongside Josh Miller, Josh Thompson and Matt Dragstrem, offers message of hope and encourages listeners to be a source of positivity even when everything seems so dark. Rhett is joined on the poignant ballad by Keith Urban, Reba McEntire, Hillary Scott and Chris Tomlin.
"In a world full of hate, be a light / When you do somebody wrong, make it right," they sing in the chorus. "Oh, don't hide in the dark, you were born to shine / In a world full of hate, be a light."
Watch Rhett's special surprise performance of "Be A Light" in the video below.
Chat About Thomas Rhett Surprises Healthcare Workers With Virtual Performance