Lars Ulrich On The Irony Of Jason Newsted's Metallica Departure
By Andrew Magnotta @AndrewMagnotta
August 10, 2020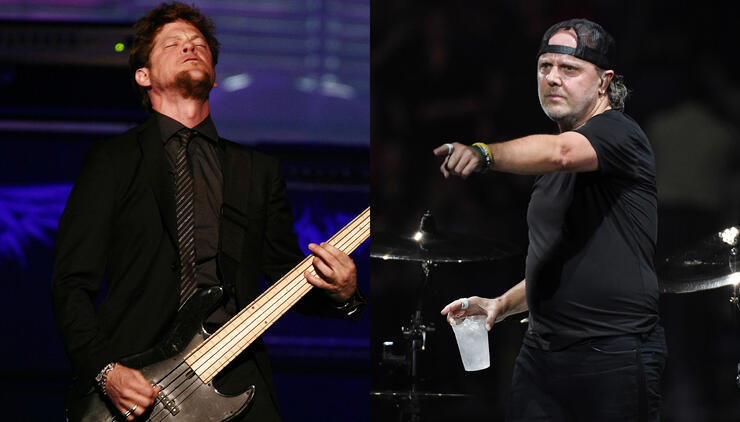 Metallica's well-documented turn-of-the-century shake-up was the most critical period in the band's history.
Even Cliff Burton's death 15 years earlier didn't put the band's future in as much jeopardy as Jason Newsted's departure.
By the time Newsted was ready to move on, Metallica had scaled the summit of the rock world commercially but was mired in a creative valley.
While Newsted was buzzing with excitement over his new band, EchoBrain (which he'd left Metallica to pursue), his former bandmates — namely James Hetfield — weren't sure how to move on or if they wanted to.
"Jason was overlooked," Ulrich told Classic Rock magazine in 2003. "And the ironic thing is that the model for what would have been the perfect Metallica in Jason's mind is the one that exists now. That is kind of ironic. It's also a little sad, because Jason's a good guy and he put a lot of effort into the band for many years, and in retrospect he was never really fully accepted into the band. Then when he tried to go elsewhere to satisfy his creative needs, he was told — well, barked at — that he couldn't."
Hetfield envisioned Metallica's legacy as that of a complete unit, one that wouldn't be diluted by solo bands or side projects — Ulrich later recalled it as a "mafia-style" view that ultimately stifled the band.
Because Newsted never got his due in Metallica and because he was never regarded as a creative equal to his bandmates, he looked elsewhere to satisfy his artistic curiosity.
"For me, it's amazing that it lasted for 14 years, that Jason stuck it out for that long," Ulrich added of the unbalanced dynamic.
As Ulrich points out in the Classic Rock interview and in the band's 2004 Some Kind of Monster documentary, Newsted's disillusionment and eventual departure brought a lot of Metallica's longstanding personnel issues to the fore.
With Newsted, the band could appear complete. Without him, Metallica was forced to consider everything that led up to his exit.
Hetfield once admitted that the initial writing sessions without Newsted were unsatisfying and that "the music was not all it could have been."
The situation eventually prompted Hetfield to check into rehab. But even after completing the program he needed additional time to figure out if he really wanted to continue with the band.
After some months of seriously questioning if Metallica was at an end, Ulrich and Kirk Hammett were joined by a rejuvenated Hetfield. They set about finishing their next album and then hiring bassist Robert Trujillo who is still in the band over 17 years later.
As Metallica relished its newfound stability, Ulrich explained that he still regretted what Metallica had to go through to get there.
"[Newsted] was the sacrificial lamb for our spiritual and mental growth as well as our creative growth, and it just sucks," Ulrich concluded. "It's medieval."
Photos: Getty Images
Chat About Lars Ulrich On The Irony Of Jason Newsted's Metallica Departure