Prince William & Prince Harry's Rift Stems From Disagreements Over Money
By Emily Lee
August 11, 2020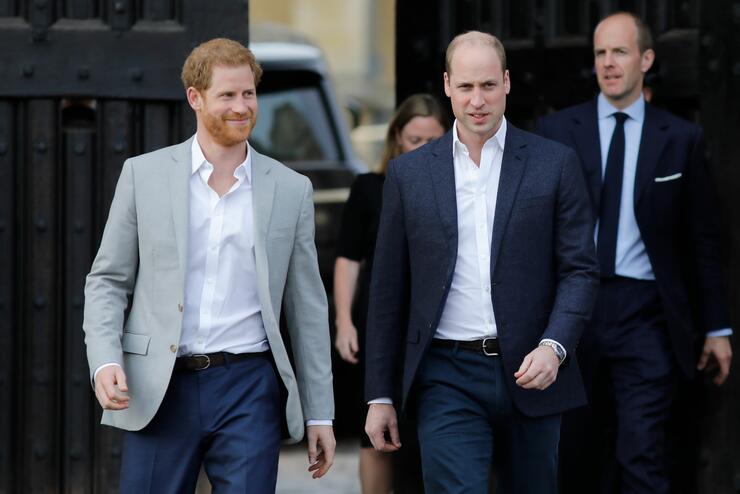 While Prince Harry and Prince William's feud has been largely credited to the Duke of Cambridge's concerns about his brother's fast-moving relationship with Meghan Markle, the new Finding Freedom biography claims there were long-simmering tensions between the brothers before the Duchess of Sussex arrived. According to the biography, the princes often found themselves squabbling over royal finances.
Since the Royal Family is a business entity, as well, William and Harry needed to get funding from their father, Prince Charles, for projects they were interested in championing, as well as everyday expenses, such as Kate Middleton and Meghan's wardrobes for official royal events. This often led to disagreements between the brothers because, as the heir to the throne, William's projects were favored over Harry's.
"While Charles may be a father to Harry, he's also their boss, and that makes their relationship complex for a number of reasons," a source says in Finding Freedom. "Where you are born in this family dictates your position of power, and because of that, Harry has always come second to his brother, especially when it comes to funding. There were times in the past when Harry wanted to take on bigger projects and do more work, but he couldn't get the money to support it. William was always the priority. A lot of their quarrels have been over budgets." 
William and Harry are believed to have a tumultuous relationship with their father, as well, stemming from childhood resentments. "The boys can be hot and cold with their father," another source dished in Finding Freedom. The insider recalled the planning for Prince Charles' 70th birthday photo session, which was "an absolute nightmare" because "neither William nor Harry made much of an effort to make themselves available."
While these tensions made life in the palace difficult for Meghan and Harry, the Duke and Duchess of Sussex's decision to step away from the family business has reportedly started to heal the rift between the princes. Carolyn Durand, one of the authors of Finding Freedom told the Today Show that the brothers were "making their way back to each other" now. "Like in any family there have been some ups and downs but the brothers are making their way back to each other, and that will take some time," she explained.
Photo: Getty