Amy Schumer Talks Pregnancy, Performing, & Parenting On 'What To Expect'
By Diana Brown
August 12, 2020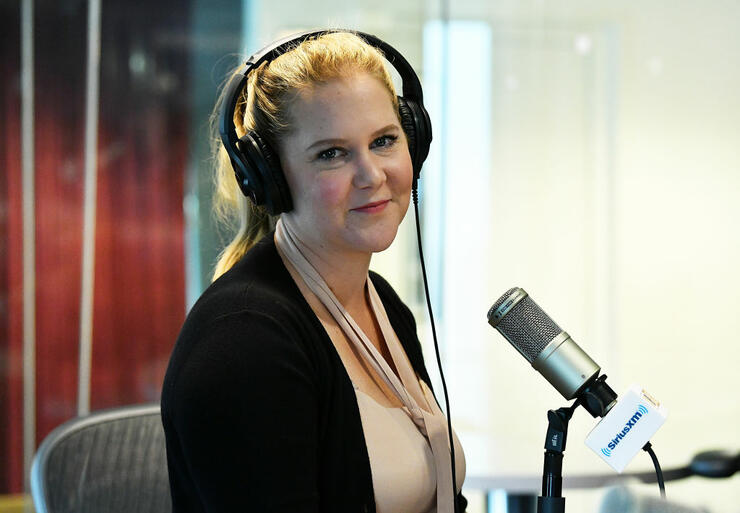 On this episode of What To Expect, parenting expert Heidi Murkoff talks to comedian and new-ish mom, Amy Schumer, who is characteristically candid and funny about her pregnancy complications, how it's been parenting in a pandemic, and what motivated her to keep performing stand-up despite everything. They also get into the process of creating her HBO Max docu-series Expecting Amy, which was pure happenstance. She and her husband, chef Chris Fischer, decided to film everything throughout the pregnancy just for fun. "We just did it with our cell phones or whatever, we didn't really have a plan," but then she met director and editor Alexander Hammer, who started to shape it into a docu-series, so she went with it. "All I ever want to do is make people laugh and feel better and less alone." Of course, she had no idea the twists that awaited her.
Early into her pregnancy, Amy was diagnosed with hyperemesis gravidarum, a condition where pregnant women experience severe nausea, vomiting, and dehydration throughout their entire term, instead of the milder and more common morning sickness. The statistics were grave: "One in three babies don't make it," she says, "because the moms aren't getting the nutrition or the hydration they need." And many women don't even realize they have it: "There's not a lot of research on it, because they don't research women's health very much." The U.S. has an extremely high maternal mortality rate for a developed country, and it's even higher for women of color. Even with all her privileges and the luxuries she can afford, Amy had an extremely tough battle. "I kept thinking, 'What are other people doing?'" 
She and Chris want more children, so they were looking into surrogacy, but "Covid put everything on hold….I hope it's in the cards for us." They talk about their toddler, Gene, who started walking at ten months and loves the delicious food his professional chef father makes for him (as does Amy, who admits to eating Gene's leftovers all the time). Heidi asks her about post-partum depression and post-pregnancy sex, and then Amy turns the tables to ask Heidi a question or two about Gene's diet. Heidi's advice is so important, Amy says, because other than her, "movies and stuff are mostly written by white men, so you don't really get the female experience….You see a woman throw up once, and then she's in overalls painting a barn or something." Hear their entire fascinating and funny conversation on this episode of What To Expect.
If you want to be sure you're listening to the podcasts everyone else is checking out, iHeartRadio has you covered. Every Monday, iHeartRadio releases a chart showing the most popular podcasts of the week. Stay up to date on what's trending by checking out the chart here. There's even a chart just for radio podcasts here, featuring all your favorite iHeartRadio personalities like Bobby Bones, Elvis Duran, Steve Harvey and dozens of others.
Photo: Getty Images
Chat About Amy Schumer Talks Pregnancy, Performing, & Parenting On 'What To Expect'