Cardboard Cutout Of Rush's Geddy Lee Spotted At Toronto Blue Jays Home Game
By Andrew Magnotta @AndrewMagnotta
August 12, 2020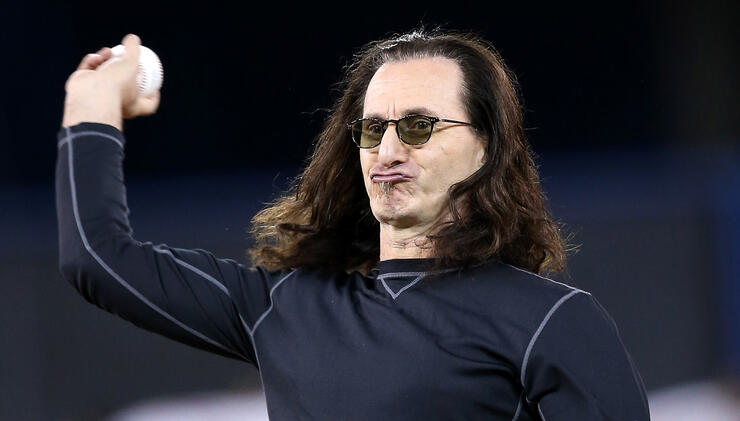 Since fans are prohibited from attending games in person this season, the Toronto Blue Jays are one of many MLB teams populating the seats behind home plate with cardboard cutouts sent in by fans.
It's not as good as the NBA's virtual solution, but it does add a bit of ambiance and no shortage of chuckles if you're inclined to look beyond the action on the field to peruse the seats for funny or familiar faces.
Rush frontman Geddy Lee is a longtime Toronto Blue Jays stalwart who normally sits behind home plate. Since Lee can't be at the ballpark in person this season, someone has ensured that the Rock and Roll Hall of Famer's face remains in the stands.
It's unclear if Lee himself ordered the cutout, but a recent string of Instagram Story shares suggests he certainly supports it. On Tuesday evening, Lee shared a number posts from fans who noticed his face in the cardboard crowd, one was from Blue Jays catcher Caleb Joseph.
"...[H]ad a pre-game chat with @RushTheBand Geddy today," Joseph wrote in a Tweet from Opening Day a few weeks ago. "He looks great!"
The photo used in the cutout of Lee is from 2013 when the bassist threw out the first pitch at the Blue Jay's season opener.
Fans who look behind home plate during Blue Jays home games (which are being played in Buffalo this season), will see Lee's cutout setup near the aisle in between cutouts of New York Governor Andrew Cuomo and a woman dubbed 'Home Plate Lady', who went viral last season.
Most major league teams are donating some or all of the proceeds of their fan cutouts to charity. The cutouts generally cost around $60 for the 2020 season.
A number of MLB teams have used the cutouts to pay tribute to beloved fans of their franchises. In July, the San Francisco Giants honored Ray Burton, the philanthropist father of late-Metallica bassist Cliff Burton with a cutout set up near the field.
The Texas Rangers recently paid tribute to late-Pantera drummer Vinnie Paul with a cutout and a tribute segment, while the L.A. Dodgers' TV affiliate cameras drew praise for lingering on a shot of a cutout depicting standup comedian Brodie Stevens, who died this past February.
Chat About Cardboard Cutout Of Rush's Geddy Lee Spotted At Toronto Blue Jays Home Game