Black Sabbath's First Gig Ever 'Went Down Like The Titanic'
By Andrew Magnotta @AndrewMagnotta
August 14, 2020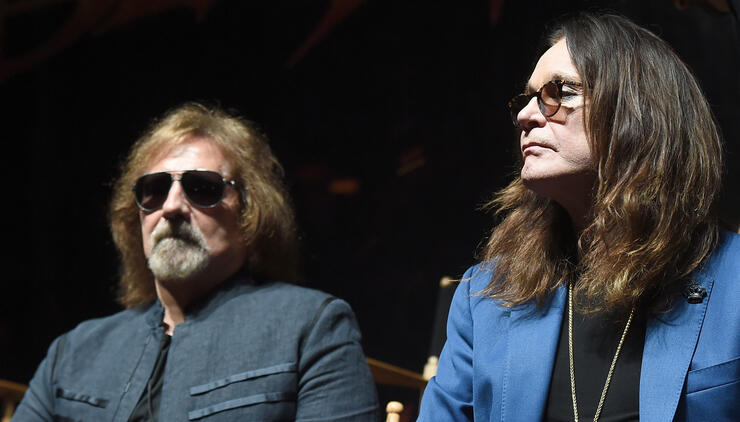 Even the world's most iconic bands don't usually start out that way.
Fortunately for Tony Iommi, Geezer Butler, Bill Ward and Ozzy Osbourne, the first gig they played together was under a different name. So when they eventually rebranded as Black Sabbath they could start fresh.
But before Black Sabbath got off the ground, 'The Polka Tulk Blues Band' needed to take its shot. The group featured the four Sabbath co-founders, plus a saxophonist and a second guitarist. It played its disastrous first show on August 24, 1968.
"We went down like the Titanic," Butler recalled in a recent interview with Metal Hammer. "I was told that I couldn't play bass properly and that Ozzy was a s--t singer. Then we were in a massive brawl while loading up the van."
The next shows didn't go much better, so the band trimmed its membership down from six to four and renamed itself 'Earth,' at Ward's suggestion.
Getting gigs in those days was a challenge, especially if you didn't have a good reputation preceding you. Earth got a break when the band met its first manager, Jim Simpson, who booked them at a club called Henry' Blueshouse.
The band became a draw at Henry's and started traveling more to play...and to fight.
"A gig in Weston-super-Mare ended up with us taking on a gang of skinheads — we won," Butler recalled. "Ozzy broke some bloke's arm — he was beating up a little kid in the front row at one of our gigs, and Ozzy jumped off-stage and beat the hell out of him, then got back on-stage and carried on singing."
The more Earth played together, the more riffs Iommi wrote. The band began developing a repertoire of original songs — a few of which appeared on Black Sabbath's debut album.
When the band members learned that there was another band called Earth, they changed their name to Black Sabbath, a reference to an early-'60s horror film Butler's brother often referenced.
After the band settled on the name, it wrote its eponymous song — the lyrics of which were based on a strange experience Butler had in the middle of the night.
The song made an impact right away.
"The first time we played 'Black Sabbath' was in this tiny pub in Lichfield," Butler recalled. "The whole pub went mental. That's when we realized we were onto something good."
This year, Black Sabbath is celebrating the 50th anniversary of its iconic sophomore album, Paranoid, with a super deluxe 5-LP vinyl reissue containing the original album, an alternate mix and two never-before-pressed live albums, plus other memorabilia.
Photo: Getty Images
Chat About Black Sabbath's First Gig Ever 'Went Down Like The Titanic'