Pippa Middleton Didn't Want To Invite Meghan Markle To Her Wedding
By Emily Lee
August 14, 2020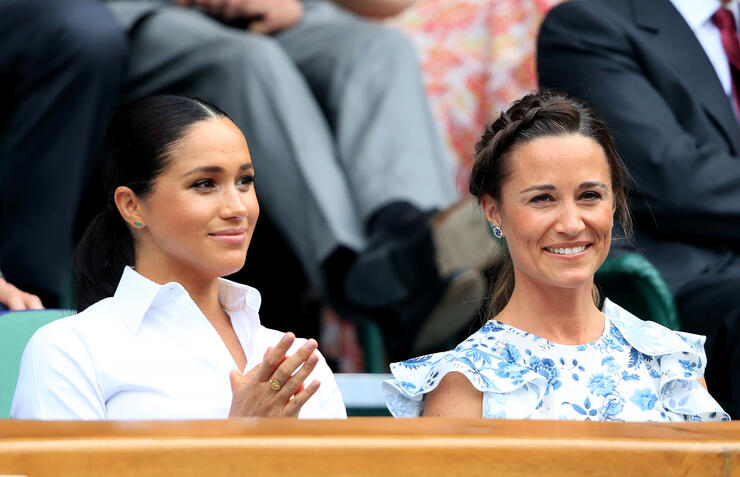 Back in May 2017, Kate Middleton's younger sister Pippa Middleton wed James Matthews with much of the Royal Family in attendance. Well, with one notable exception—Prince Harry's future wife Meghan Markle.
According to new biography Finding Freedom, Meghan was, in fact, invited to Pippa's wedding, however, she did not attend the church service. Royal reporters Omid Scobie and Carolyn Durand claim Pippa and her mother, Carole Middleton, were concerned Meghan's presence would take attention away from the bride. Soobie and Duran write in Finding Freedom that Pippa and Carole "privately harbored concerns that the American actress's presence alongside Harry might overshadow the main event."
Despite their private concerns, Pippa extended an invitation to Meghan. Even though Meghan was invited to there ceremony, Meghan and Harry were aware that "the media frenzy that followed their every move made them somewhat of a reluctant addition to the guest list."
Only a few short hours before Pippa was expected to walk down the aisle, The Sun ran a story about Meghan and Pippa with the headline 'Meghan v Pippa' and calling the nuptials the 'Wedding of the Rears' in their paper. Meghan decided to forgo the church ceremony after that. Instead she secretly joined Harry for the reception later that night.
"Harry and Meghan agreed that she couldn't possibly turn up at the church," Scobie and Durand explained. "If they worried their arrival might create a media circus despite taking every precaution, now they had no doubt it would,"
Instead of attending the wedding ceremony, Meghan stayed at a nearby Airbnb and got ready for the reception. Conscious of the attention she might receive, Meghan chose to wear a "decidedly unflashy long black gown" and did her own makeup. The Duchess "put careful thought into her outfit" to make ensure it was "stylish without being splashy."
Following the ceremony, Prince Harry swung by the Airbnb where the couple enjoyed lunch together before heading over to the reception together.
Photo: Getty
Chat About Pippa Middleton Didn't Want To Invite Meghan Markle To Her Wedding