Kelsea Ballerini Hilariously Live-Tweets Trying To Capture Bat In Her House
By Taylor Fields
August 18, 2020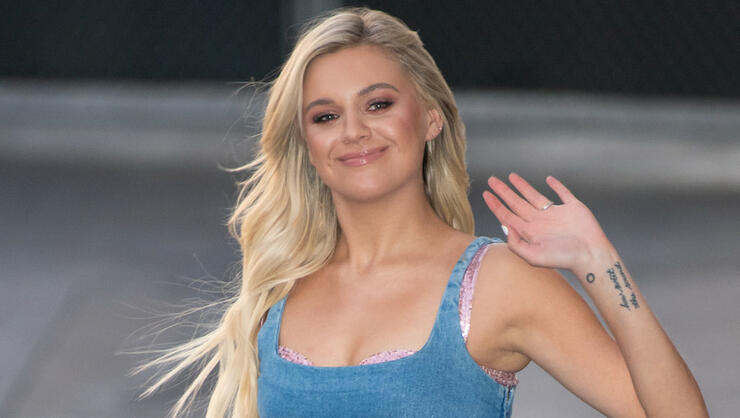 Well, it was a wild Monday night for Kelsea Ballerini and Morgan Evans as they tried their best to capture a bat that had somehow made its way into their home.
The bat saga went on into the wee hours of the morning as Ballerini documented the entire ordeal on Twitter (and yes, with hilarious video), giving updates to fans throughout the night.
It all started when Kelsea and Morgan were cozy in bed when, all of a sudden, they noticed the "cute" bat flying around their bedroom. At 10:59pm, Ballerini tweeted, "just as @Morgan_Evans & I got all cozy in bed, a BAT flew out of SOMEWHERE in the BEDROOM and now we can't get him OUT and although he's little and cute he's STILL HERE."
About an hour later, Kelsea shared footage of Morgan, who appears to be protected with some kind of towel or blanket on his head, trying to get a control on the situation.
The "cute" bat wasn't so cute anymore, as 20 minutes later, Kelsea shared, "It's the fact that I optimistically called this bat cute 10 minutes ago and now he's FLOWN behind the MANTEL and won't come OUT so I'm sleeping on the couch for the foreseeable future for me."
She also added this incredible bat pun:
But, Bat-Gate 2020 didn't end there. Kelsea tried a different method to captur the surprise houseguest, while also making sure the nocturnal creature wasn't dehydrated — so she put out some water. She explained, "I just put out water for the bat because 1) I want to coax him out of his hiding spot and 2) I feel SAD THAT HES HAD TO FLY SO AIMLESSLY FOR AN HOUR AND HES PROBABLY PARCHED I am unstable."
At one point, Kelsea considered just keeping the bat at the suggestion of a fan, and contemplated what to name him. (I think the appropriate answer is Bat-erini).
At almost midnight, Kelsea let everyone know that her and Morgan were "still in comBAT" and then shared a video of Evans trying to capture the bat with a net.
Finally, just after midnight, Kelsea shared that they were officially in a "standoff" with the bat. She tweeted, "still in the room, bat is tired, we are tired, it's a standoff. WHO WILL BREAK. me. That's who."
Chat About Kelsea Ballerini Hilariously Live-Tweets Trying To Capture Bat In Her House