Harry Styles Cast In New Movie Alongside Brad Pitt: Report
By Paris Close
August 19, 2020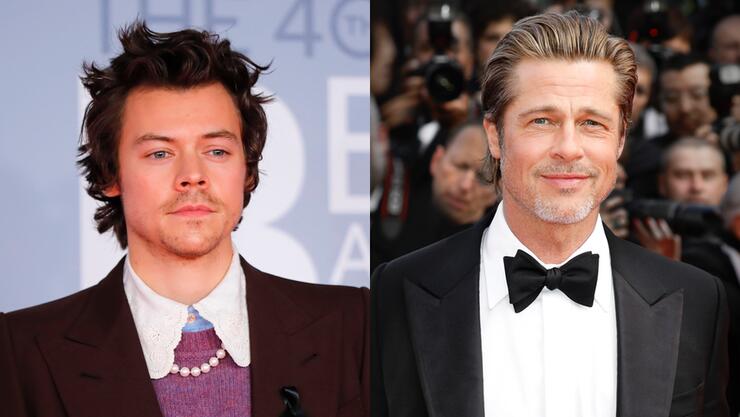 Update (August 19): Both Brad Pitt and Harry Styles' reps have respectively denied reports that the actors will star in Faster, Cheaper, Better, according to ET Canada.
Original story begins here: Harry Styles may have landed his next movie role!
Years after starring in the Academy Award-winning film Dunkirk, the "Adore You" singer is reportedly returning to the big screen once again — this time alongside Brad Pitt!
According to the Latin American and European movie distributor Vértice Cine, the crooner will star in an upcoming drama that "deals with the great and inevitable changes that are coming in the trucking industry."
The film, titled Faster, Cheaper, Better, will be directed by Dan Gilroy (Nightcrawler, The Bourne Legacy).
Per the synopsis, "The film spans 20 years in multiple locations with intertwined stories of countless characters including: a union boss, a young businessman, an inland farm manager, and a tech millionaire... [Their] lives are cut short when the automation and artificial intelligence transform the world as we know it. In the end, everyone must face the meaning of being human."
While neither Styles nor Pitt has confirmed their involvement in the movie, the rumor isn't that unlikely to be true — Deadline confirmed Gilroy's attachment to direct back in June. True or not, the very thought of the two performers joining forces has Stylers losing their cool on Twitter.
"Brad pitt and harry styles... acting together... in a movie... i mean i'm not saying i'm freaking out but THAT'S EXACTLY WHAT I'M SAYING," one user wrote, as another tweeted, "IF IT TURNS OUT TO BE FAKE, I HOPE THE PERSON WHO SPREAD THIS STEPS ON A LEGO PIECE."
As fans know, the "Watermelon Sugar" musician made his acting debut in Dunkirk back in 2017 and was received warmly by fans and music critics alike. If the rumors are true, Faster, Cheaper, Better will mark the 26-year-old's second feature film of his acting career.
Photo: Getty Images
Chat About Harry Styles Cast In New Movie Alongside Brad Pitt: Report