Protests Erupt After Wisconsin Cop Shoots Black Man In The Back
By Bill Galluccio
August 24, 2020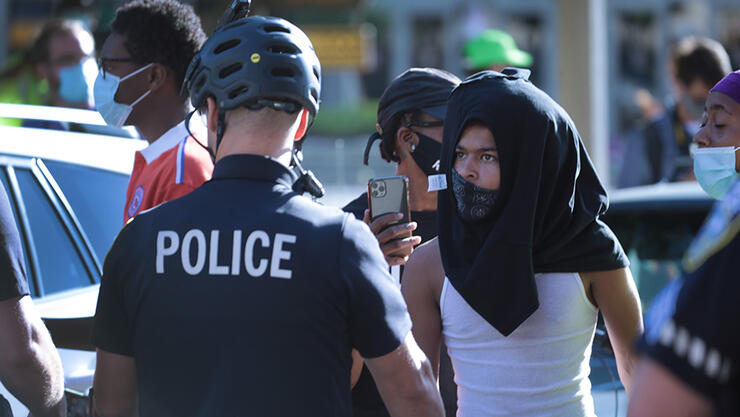 Violent protests broke out in Kenosha, Wisconsin, after a Black man was shot in the back by a police officer on Sunday (August 23). Video recorded by neighbors shows two officers following the man, identified as Jacob Blake, toward an SUV with their guns drawn. As Blake opens the door, one of the officers grabs Blake by his shirt and shoots him in point-blank in the back at least seven times in front of his children, who were in the SUV.
The officers began to provide medical assistance, and Blake was airlifted to the hospital in serious condition.
Authorities said they were responding to a domestic disturbance call, but did not say what led to Blake getting shot. Bystanders said the man was trying to break up a fight between two women. Police reportedly used a Taser on the man before shooting him.
The officers involved have been placed on administrative leave, and the Wisconsin Department of Justice's Division of Criminal is investigating the shooting.
"Tonight, Jacob Blake was shot in the back multiple times, in broad daylight, in Kenosha, Wisconsin. Kathy and I join his family, friends, and neighbors in hoping earnestly that he will not succumb to his injuries. While we do not have all of the details yet, what we know for certain is that he is not the first Black man or person to have been shot or injured or mercilessly killed at the hands of individuals in law enforcement in our state or our country," Governor Tony Evers said in a statement.
After the video of the shooting went viral, protesters took the streets to demand justice for Blake. Protesters gathered near the scene and started small fires before marching towards the police station where they faced off with officers in riot gear. Officials in Kenosha County declared an emergency and instituted a curfew until 7 a.m. on Monday.
Photo: Getty Images
Chat About Protests Erupt After Wisconsin Cop Shoots Black Man In The Back