Selena Gomez Celebrates Blackpink Collab With New Ice Cream Flavor
By James Dinh
August 25, 2020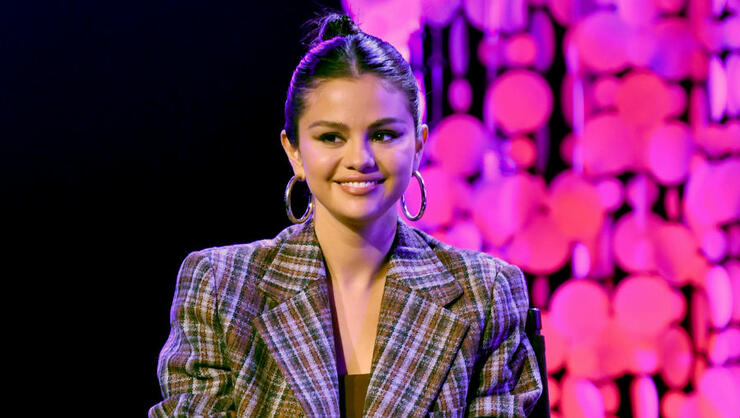 Blackpink and Selena Gomez's upcoming collab, "Ice Cream," is getting some spot-on promotion.
On Monday (August 24), the ice cream brand Serendipity and its famed Serendipity3 Restaurants announced Gomez as its newest investor, along with the upcoming release of a new flavor. The pint, which is dubbed Cookies & Cream Remix, is inspired by the pop acts' new track and made of pink vanilla ice cream, cookie bites and thick fudge swirls. Gomez previewed the tasty treat on Instagram on what is presumably the video set for the song. "So, basically, it's heaven and every bite is delicious," she playfully told viewers of the chocolate cookie concoction.
"Growing up and loving the iconic Serendipity restaurant, I couldn't be more excited to become a partner in their expanding brand," Gomez said in a press statement. "For the Cookies & Cream remix, I wanted to put my own personal spin on this classic flavor by making it with pink vanilla ice cream as a nod to my girls Blackpink and celebrate our new song 'Ice Cream.'"
Meanwhile, Sal Pesce, President and COO of Serendipity Brands, emphasized how Gomez brings a new set of fans to their brand. "Selena Gomez is the perfect partner and flavor engineer for Serendipity Brands," he said in his statement. "As a forever fan of our brand, Selena brings a fresh perspective and a whole new set of fans to help us take over the decadent ice cream category with our innovative, indulgent mixes."
Gomez's Cookies & Cream Remix will be available on Friday, the release date of "Ice Cream," in supermarkets and food retailers across the country. It will also be available for purchase at SerendityBrands.com.
In case you haven't heard, the upcoming single features co-writing credits from Ariana Grande, Victoria Monet and Tommy Brown. It was also the work of songwriter/producers Bekuh Boom and Mr. Franks. It marks the second single after "How You Like That" from the K-pop group's debut album, which scheduled to drop on October 2.
Chat About Selena Gomez Celebrates Blackpink Collab With New Ice Cream Flavor