Mike Pence Accepts Nomination, Vows To Restore Law And Order To America
By Bill Galluccio
August 27, 2020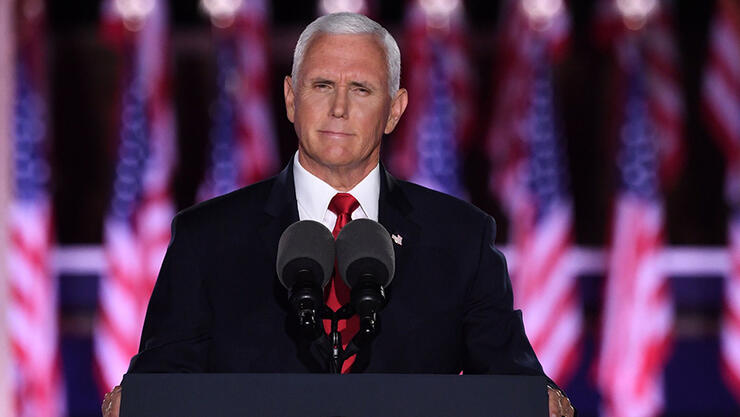 Vice President Mike Pence accepted the nomination for a second term on the third night of the Republican National Convention. Pence praised the leadership of President Donald Trump who fought off relentless attacks as he worked hard "to keep the promises that he made to the American people."
"Four years ago, I answered the call to join this ticket because I knew that Donald Trump had the leadership and the vision to make America great again. And for the last four years, I've watched this President endure unrelenting attacks but get up every day and fight to keep the promises that he made to the American people. So with gratitude for the confidence president Donald Trump has placed in me, the support of our Republican Party and the grace of God, I humbly accept your nomination to run and serve as vice president of the United States," Pence said from Fort McHenry in Baltimore, Maryland.
Pence said that while Trump does things in his own way, he is always fighting to keep the promises he made to the American people.
"In a city known for talkers, President Donald Trump is a doer. Few presidents have brought more independence, energy, and determination to that office."
Pence compared the America that the Republican Party is fighting for to the Democratic vision for the future. He ripped into Joe Biden's record on the economy during his time serving as Vice President under President Barack Obama.
"Who do you trust to rebuild the economy? A career politician who presided over the slowest economic recovery since the Great Depression or a proven leader who created the greatest economy in the world?"
Pence promised that the Trump administration would put an end to the violence and riots that have broken out in cities across the country. He said the Democratic policies will only make things worse, and warned that "you won't be safe in Joe Biden's America."
"Last week, Joe Biden didn't say one word about the violence and chaos engulfing cities across this country," Pence said. "So let me be clear: The violence must stop, whether in Minneapolis, Portland, or Kenosha. We will have law and order on the streets of this country for every American of every race and creed and color."
Pence promised that if he and President Trump are reelected, they will "Make America Great Again...Again."
"With President Donald Trump in the White House and with God's help, we will Make America Great Again...Again," he said.
Photo: Getty Images