Dee Snider Hates That New KISS Members Wear Ace Frehley, Peter Criss Makeup
By Andrew Magnotta @AndrewMagnotta
August 28, 2020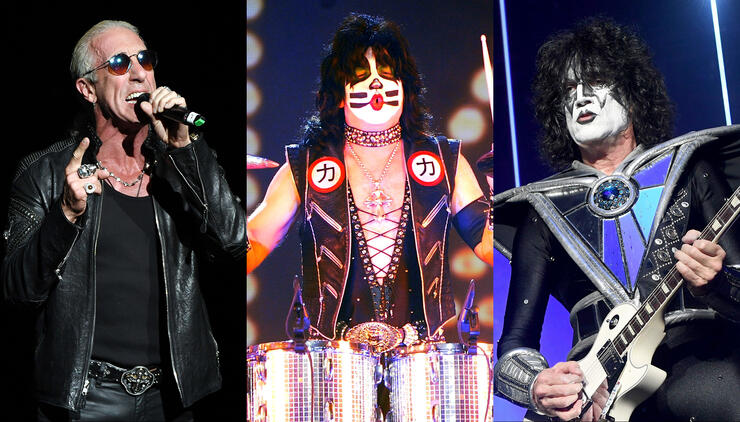 Twisted Sister's Dee Snider is one of many Kiss fans who can't get used to seeing different faces under the signature makeup of co-founders Ace Frehley and Peter Criss.
Frehley and Criss famously signed over the rights to their respective Spaceman and Catman characters to Gene Simmons and Paul Stanley prior to the mid-'90s reunion of the band's original lineup.
When the lead guitarist and drummer parted ways with the band again a few years later, Criss's replacement Eric Singer and Frehley's replacement Tommy Thayer took on the classic personas of their Kiss forebears instead of designing new characters.
"I hate what Kiss is doing with the guys with Ace and Peter's makeup on — I'm not a fan," Snider told Brando on the Appetite for Distortion podcast.
Snider made the comment in response to a question about reunions of classic rock bands.
"When I left Twisted and I went out at some point and I was doing Twisted music, I never even thought of calling it Twisted Sister without the other four guys," he said. "Everyone is saying, 'But you're Twisted Sister; you wrote the song.' ...I said, 'That's not Twisted Sister.' And I won't do that out of respect for the other members of the band. I could've made a lot more money doing that, but I would not do that."
Similarly, Snider is "disappointed" Guns N' Roses couldn't fully reunite either of the band's classic lineups for their record-breaking 'Not in This Lifetime' reunion tour.
While Kiss has expressed hopes to reunite the founding lineup of the band on its 'End of the Road' tour, it's unclear if Criss and Frehley will bite. Criss retired after performing live for the final time in 2017.
Frehley has been angling to get back in Kiss for several years, but he pointed to Thayer inhabiting his Spaceman character as a stumbling block to any collaboration.
Simmons and Stanley, meanwhile, haven't budged on their commitment to the current lineup of the band, which they say is by far the most functional Kiss has ever been.
Listen to the full conversation on Appetite for Distortion here.
Photo: Getty Images
Chat About Dee Snider Hates That New KISS Members Wear Ace Frehley, Peter Criss Makeup