The Weeknd's VMA Performance Was On Top Of A 100-Floor New York Skyscraper
By Hayden Brooks
August 30, 2020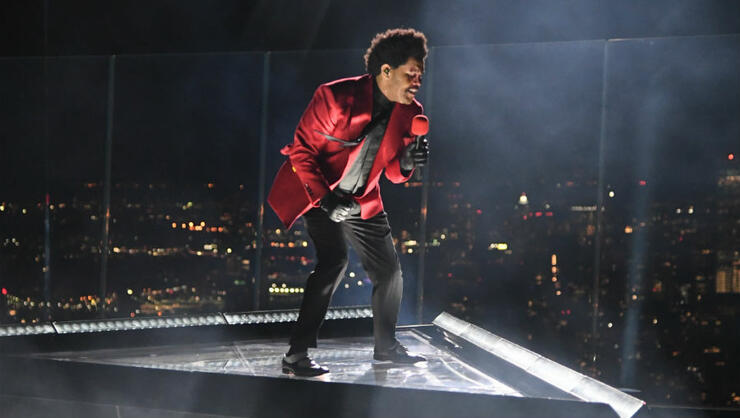 The Weeknd's bloodied character for his After Hours campaign returned during the 2020 MTV Video Music Awards.
On Sunday (August 30), the Canadian crooner opened the annual show atop The Edge in Manhattan as part of the Keke Palmer-hosted ceremony to perform his hit single, "Blinding Lights." Throughout the three-minute number, Abel appeared on the shiny New York City tourist attraction on an elevated platform and, boy, was it a spectacle. In case you didn't know, the new tourist stop has been dubbed the tallest outdoor sky deck in the Western Hemisphere. "I said, ooh, I'm blinded by the lights/ No, I can't sleep until I feel your touch/ I said, ooh, I'm drowning in the night/ Oh, when I'm like this, you're the one I trust/ Hey, hey, hey," the singer crooned during the flashy performance, which was backed by a helicopter and ended with fireworks.
Believe it or not, this marked The Weeknd's second performance at the annual MTV ceremony. He performed "I Can't Feel My Face" in 2015 and pulled the plug on a performance slot in 2017 without any heads up.
As per reports, The Weeknd and his ex-Bella Hadid ran into each at MTV rehearsals on Friday, but the former couple was in fine spirits. "They played it cool and crossed paths with each other, same place, same time," a source told The Daily Mail. While The Weeknd hit the stage for the show-stopping performance, Hadid was on-site for the ceremony for hosting duties to present an award later in the night.
Chat About The Weeknd's VMA Performance Was On Top Of A 100-Floor New York Skyscraper