Kanye West Reveals The Real Reason He Crashed Taylor Swift's VMA Speech
By Hayden Brooks
September 2, 2020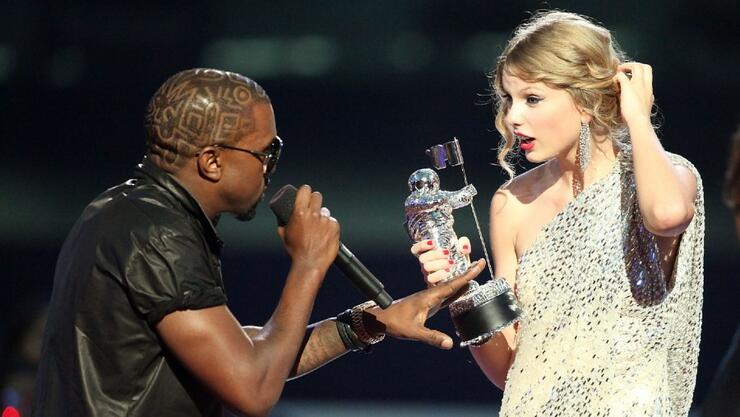 Kanye West was prompted by God to stage-crash Taylor Swift's 2009 MTV Video Music Awards win.
As per the rapper's new interview on Nick Cannon's Cannon's Class YouTube talk show, the hip-hop heavyweight, who walked on-stage during her Best Female Video win, said that it was his religious devotion that served as a cue to interrupt her speech and stand up for Beyoncé's "Single Ladies."
"Right now, God is giving me the information and he ain't give me no other information," he declared during the 44-minute episode. "So that means he wants me to say this now,. If God ain't want me to run on stage and say, 'Beyoncé had the best video,' he wouldn't have sat me in the front row. I would've been sitting in the back and they would've made it the first award and he wouldn't have made it so ridiculous, because I had never heard of this person before and 'Single Ladies' is one of the greatest videos of all time."
West was seen on the red carpet of the ceremony drinking from a bottle of Hennessy Brandy, but it doesn't seem as if he factored alcohol into the stage crash. "I was only drinking Hennessy because I didn't want to go to the awards show because it was a set-up," West explained. "God brought me to my knees multiple times. The first time that I was put into hospital in 2016, I actually started reading the Bible."
As you know, the incident would cause the two to clash for more than a decade. Yet, West's continuous talk of Swift doesn't seem to be phasing the superstar. The pop titan's surprise LP, folklore, just spent its fifth week atop the Billboard 200 albums chart, tying Lil Baby's My Turn for the most weeks atop the list in 2020.
Chat About Kanye West Reveals The Real Reason He Crashed Taylor Swift's VMA Speech