Lauren Alaina Is 'Getting Over Him' On Brand New EP
By Blake Taylor
September 4, 2020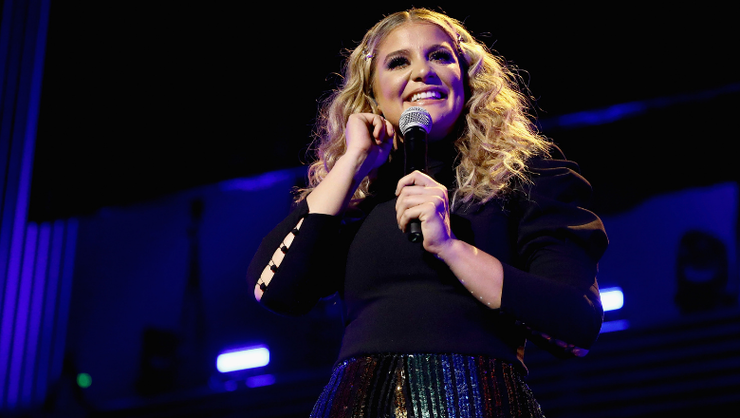 Lauren Alaina wears her heart on her sleeve in her new EP, Getting Over Him. The project, officially released on Friday (September 4), features six tracks full of emotional highs and lows felt after a breakup.
"It was just me remembering to love myself when someone else doesn't," she recently shared of the EP. "I went through two very public breakups and that's not really ideal, so I decided to write about it...I felt like if I'm going to name it, Getting Over Him, I have to put all sides of the breakup in there. It was a hard couple of years and this quarantine has been crazy alone, but I would rather be alone and have this music than be in a bad relationship and not have it."
Part of Alaina's story is told with the help of fellow country music artist Jon Pardi who is featured on the title track, "Getting Over Him" and pop singer Lukas Graham on "What Do You Think Of." While the EP does have a focus on breakup songs, the country singer made sure to also include empowering anthems like "Run" as well.
"We all need to be empowered. This is a collection of breakup songs, but they are really empowering breakup songs," she explains. "When I felt empowered, I took the power away from those people and their words and the things that they had to say about me online. As someone who really struggled with that and really had to deal with people putting me down and not feeling super confident, I think I wrote those songs because I needed to hear them."
Getting Over Him is available to stream now! A full track list for the project can be seen below.
Getting Over Him EP Track List:
1. Run (Lauren Alaina/Ben Johnson/Kennedi)
2. If I Was A Beer (Lauren Alaina/David Garcia/Hardy)
3. Bar Back (Lauren Alaina/David Garcia/Hilary Lindsay)
4. Getting Over Him (duet with Jon Pardi) (Lauren Alaina/Paul DiGiovanni/Emily Weisband)
5. See You In Your Hometown (Lauren Alaina/Ben Johnson/ Kennedi)
6. What Do You Think Of? (duet with Lukas Graham) (Lauren Alaina/Johan Carlsson/Asia Whiteacre)
Photo: Getty Images